Memo to the Boss: Mindfulness on the Job
Blog / Produced by The High Calling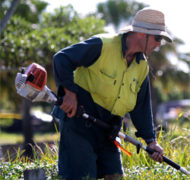 Today we continue our discussion of Ellen J. Langer's book Mindfulness with chapter eight: Mindfulness on the Job. Mindfulness is a valuable resource in the workplace, Langer tells us.
Fatigue, conflict, and burnout can all result from being mired in old categories, trapped by old mindsets…For employer and employee alike, mindfulness may increase flexibility, productivity, innovation, leadership ability, and satisfaction…
But what does a mindful place of employ look like? And how can leaders promote one? Langer identifies some characteristics to strive for.
Welcoming the Glitch
Mindful places of employment see unexpected changes as an opportunity for growth rather than as a stumbling block. As an example Langer mentions the work situation in which only three people turn up for the job instead of the usual four.
…A mindful employee, oriented to the present, might reassess the job as one for three people, or for whatever equipment was at hand. Deviations from some habitual way of working are less problematic if there is tolerance for uncertainty and no rigidly set method in the first place…
Encouraging employees to be open to creative solutions is one way to promote mindfulness in the workplace.
Second wind
Mindful places of employment allow for changing contexts periodically to renew energy. Langer cites research that indicates when people are exhausted from doing a certain task, a simple change of activity re-ignites energy.
…Mindful individuals use the phenomenon of second wind to their own advantage in a more deliberate way. Staggering different kinds of paperwork, changing to a different work setting, and taking a break to jog or make a phone call are all ways to tap latent energy by shaking free of the mindset of exhaustion…
If employors can create an environment where the employee experiences a change of context on a regular basis, this will promote mindfulness.
Promote Innovation
Innovative approaches to problem-solving can be encouraged in many ways. Creating new categories, exploring multiple perspectives, and focusing on process all increase the potential for mindful thinking on the job.
Langer suggest the imaginative use of outsiders to help keep an open mindset. Adding a female to an all male company, for example, or tapping into a wide age range can provide new perspective. If an outsider is not available, generating the kind of perspectives brought by outsiders from different disciplines is a helpful exercise (ask the team, how would an engineer view this project? An architect? An advertising executive, etc.)
The Power of Uncertainty
Of all the qualities in a manager conducive to innovation and initiative, a degree of uncertainty may be the most powerful. If a manager is confident but uncertain—confident that the job will get done but without being certain of exactly the best way of doing it—employees are likely to have more room to be creative, alert, and self-starting…Admission of uncertainty leads to a search for more information, and with more information there may be more options.
This sounds like trust to me. And an environment where it's okay to ask questions. One of the things I found most interesting in this section is Langer's exposition on the mindful work environment:
...although work may often be accomplishes mindlessly, with a sense of certainty, play is almost always mindful. People take risks and involve themselves in their play….We tend to be more adventurous at play because it feels safe. We stop evaluating ourselves…to encourage mindfulness at work, we should make the office a place where ideas may be played with, where questions are encouraged, and where "an unlucky toss of the dice" does not mean getting fired.
Langer notes that burnout results from two circumstances: when certainties start to characterize the workday, and demands of the job make workers lose a sense of control.
Finding ways to provide employees with options and restore a sense of control are crucial to promoting mindfulness on the job.
Have you ever worked in an environment that promoted mindfulness? Will you share your experience with us? You can share your thoughts in the comment section or link up below with a post at your blog.
Next week we'll be discussing chapter nine--Decreasing Prejudice by Increasing Discrimination --of Ellen J. Langer's book Mindfulness.
Image by Gilderic. Used with permission. Sourced via Flickr. Post by Laura J. Boggess.