Mike the Mechanic
Blog / Produced by The High Calling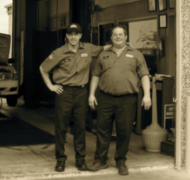 They say the two things you have to find when you move to a new city are a good doctor and a good mechanic. I've had several physicians in the twenty years that I have lived in San Antonio but only one mechanic. His name is Mike. Mike Kastis was the owner of Kastis Shell, one of the last full-service filling stations in our part of the world. Going to Mike's place was like traveling back in time. There were full service pumps, where an attendant would pump your gas, clean your windshield, and take your money. If you wanted the cheaper prices at the self service pumps, you went inside the office and paid Gloria, who worked for Mike forever. Near her cash register was a small selection of snacks and soft drinks. Outside the office was the classic three bay shop, where Mike and his team of mechanics - all wearing matching uniforms - did their work. I remember being surprised and impressed when I found out that the man who owned the station was the head mechanic. This was his business, and you were his customer. If you were a regular, Mike soon learned your name. I don't think I was ever at Kastis Shell when someone didn't drop by and call out to Mike, who would lift his head from under the hood of a car and shout back a greeting. The people who live in my neighborhood know Mike and trust him. We don't take our cars anywhere else. Mike's prices were right and fair for the work he did. He wasn't cheap, nor was he expensive. He was righteous. There were times when I brought my car in, thinking it needed serious and expensive repairs, only to have Mike make some easy adjustment and wave me on my way. Because of this, on the occasions when Mike had to deliver bad news to me, I always accepted it calmly and with a certain peace. I don't like receiving an expensive car repair bill, but it's easier to take when I have no doubts about the person handing it to me. Mike's family is from Greece, and he's a passionate member of the Orthodox Church. He knew that I was a Baptist minister. During my sabbatical, when I was attending Orthodox worship, Mike and I had the strangest conversations, bouncing back and forth from carburetors to theology. There was something wonderfully masculine about chatting with a guy about the
Theotokos
while he wiped his hands with a red shop rag. Perhaps you guessed from my use of the past tense that Mike's shop, like all good things, eventually came to an end. The sudden surge in gasoline prices in 2008 was devastating to independent stations like Kastis Shell, who had to compete with convenience store chains and their rock-bottom prices. When prices soared past $4 a gallon, it was a struggle for Mike to pay for his gas deliveries in advance, which was required by the distributors for their smaller customers. When a bank offered to buy the property where Kastis Shell sat for all those years, Mike had no option but to sell. We in the neighborhood were grief stricken. I remember driving by and seeing Mike packing up his tools. I pulled in to say goodbye. He said, "Gordon, you're one of my good customers. If you need work done on your car, call me. I'll be doing some work from my garage. I'm going to take a break, but someday I might be looking to buy a small shop where I can work on cars and not be bothered by selling gasoline. Keep your eyes open. I might be back." Two years later, just around the corner from his old shop, on a side street without access to the main road, I saw a sign that said, "Kastis Automotive." I pulled in and found Mike and his wife opening
their new shop
. I jumped out of the car. "Hey Mike, you're back!" I yelled. "Yeah. How you been doin, Gordon?" He gave me a small tour. I said, "I'm a little worried that no one can see your sign from Nacogdoches Road." "Eh, that's okay. I don't really rely on signs that much. My customers always manage to find me. Word of mouth. It gets around." Just then the door to the shop burst open and a woman came in. "Mike, you're back!" she yelled, running over to him. "How you doin, Cindy?" "Oh my gosh, I can't believe you're back. Thank God. I have to tell Jerry, my neighbor. Remember when you fixed that thing on his car way back when? He's never stopped talking about you." She rushed out the door. Mike looked at me and laughed. "That happens about 10 times a day," he said with a smile. As I drove away I thought about Mike and his long years of honest work in our neighborhood. Goodness, honesty, fairness, righteousness, faithfulness. These are the building blocks of great devotion to God and a great business. In Mike's case, I don't think he's ever bothered to separate the two.
Kastis Automotive Repair, San Antonio Texas
Visit Gordon Atkinson's blog to find out how you can "Google bomb" Mike and help his new shop.