My View From Haiti: Keep Coming Back
Blog / Produced by The High Calling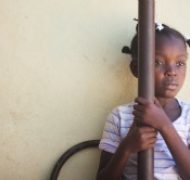 At the orphanage, a blue gate slides open, and on the other side, there are multiple squeals of joy. Children race uphill to greet us with hugs and smiles and we respond in kind.
Hugs and smiles. And squeals.
We are wearing Haiti on our clothes, and in our hair and nostrils, and Haiti trickles down our backs to remind us we are human and so much of life is out of our control. It doesn't really matter what I've heard, or what I've thought, or what I expected because standing here, beneath a tree, wipes away six hundred fifty-seven presuppositions.
Pastor Gaeton smiles and I wonder who can look at him without seeing Jesus. Who can look away? He says he does this work with all his heart because he knows the hand of God is in it.
When he talks about this ministry at the orphange, Pastor Gaeton says he has spoken with individuals and organizations who seemed to catch his vision, and said they would help. But they didn't. They didn't show up. They didn't come back.
It's not the first time I've heard this since I've been in Haiti. And I haven't been here very long.
"These guys keep coming back." That's what people say about the Help One Now team. The times Chris Marlow has made the two-hour flight from Miami to Haiti, now numbers in the teens. When he greets people, it is more than just a kind handshake, or a respectful nod. Chris, and the rest of the team are all in.
There's something to be said for the long haul. For saying I'll do something and then following through. For honoring my word, or a handshake, or my signature on the dotted line. For coming back.
It matters in church. It matters at work. It matters in Haiti, and in my backyard. The power of follow through makes a difference. Every single time.
To find out how you can help, visit Help One Now.
All images by Scott Wade, used with permission. Post by Deidra Riggs.