New Values and a New Quest: The Curator interviews a "Brave" producer
Blog / Produced by The High Calling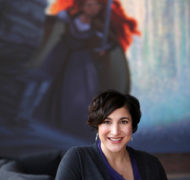 My husband, sons, and I are huge Pixar fans. We're first in the seats to see their new release each summer, where we munch on popcorn while anxiously awaiting the fruit of Pixar's stellar creativity.
What makes a Pixar film so good? The folks behind the screens report they spend years crafting and perfecting an upcoming film's story before they ever begin animating it. Such commitment and excellence shows--and it's often rewarded.
Last week, the most recent Pixar film (Brave) won a Golden Globe for Best Animated Feature. Curator magazine's Aaron Belz took the opportunity to interview Brave's producer, Katherine Serafian. (BTW, our own Christine Scheller did a great job interviewing Katherine last fall.)
Read the Q&A over at Curator's site.