Can We Really Give Thanks Always? November 22 Newsletter
Newsletter / Produced by The High Calling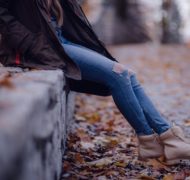 Thanksgiving: from pumpkin pie to football and family get-togethers, American Thanksgiving traditions are well-established. But sometimes we find it hard to offer real thanks in a world that's cruel. This week, our writers seek gratitude in unlikely places, including at work.
Don't Worry, Be Thankful: Eucharisteo with Ann Voskamp
From The High Calling
"He gave thanks" in Luke's Gospel reads "eucharisteo." Charis means "grace" and chara means "joy." Grace and joy lead us to thanksgiving.
Can We Really Give Thanks Always?
From The High Calling
Am I giving thanks always? No, not yet. Am I learning to give thanks more and more? I think so. I hope so.
2 Conditions That Could Kill Your Thanksgiving
From the Theology of Work Project
Both wealth and envy can kill your ability to give thanks.