Changing Jobs, Ready or Not: August 31 Newsletter
Newsletter / Produced by The High Calling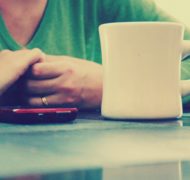 You left. You got fired. You got married. You got divorced. You got outsourced. Your company moved you from South Dakota to South Bend. People change jobs for all sorts of reasons, and not always because they choose to.
In this newsletter we hear one man's reflections on the bittersweet nature of job changes. We hear the Bible's counsel about when to change jobs and when to do the same job with a new perspective. And we are reminded that even if jobs change, God doesn't.
The more things change, the more God stays the same. Read on.
​Wired for Change
From The High Calling
As Sam Van Eman contemplates a job change, he decides that replacing the old with the new is an innate capability all people share. Read more
Changing Jobs
From the Theology of Work Project
We believe God calls us to our particular work. But does he ever call us to leave it? Read more
God Don't Never Change
From The High Calling
As you experience transitions in life, whether they are welcomed or not, it is reassuring to know that God does not change. Read more