Jesus' Love at Work...and Everywhere: February 14 Newsletter
Newsletter / Produced by The High Calling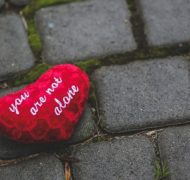 Today is Ash Wednesday, which begins the season of Lent. It's also Valentine's Day! The two holidays needn't be at odds with one another. We can celebrate the people we love while reflecting on the greatest love of all: that God loved us so much he died for our sins. Wherever you're working this holy Wednesday, you can start reflecting that love exactly where you are. Read on. And check out our free devotional "Jesus' Love at Work."

When Love Isn't Wonderful
From The High Calling
Sometimes love is one of the hardest challenges of life. Love, real love, can lead us to do that which we would never choose.
My First Ash Wednesday
From The High Calling
This was a first for me, to see a room full of people remembering their frailty.
Beloved Disciples
From the Theology of Work Project
Through God's grace, work can become an arena where we live out our relationship with God and others through loving service.