Women, Work, and Jesus: September 14 Newsletter
Newsletter / Produced by The High Calling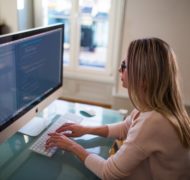 From Sheryl Sandberg to Simone Biles, women with strong work ethics have been in the news lately. Surprisingly — or maybe not so surprisingly — there are quite a few women in leadership in the Bible too.
This newsletter offers pointers for church leaders hoping to connect with the strong professional women in their congregations. It shows some lessons from Deborah, Israel's judge and prophet, on women's leadership. And it gives women and men guidelines for working with each other in ways that honor God, welcome women's contributions, and get the tasks done.
​Where Are the Strong Professional Women in Your Church?
From The High Calling
Many churches forget to invite women to serve in ways that are related to their professional skills. Instead of assuming a woman would be a good fit for children's ministries, why not ask that CPA to serve on the finance board? Read more
Deborah
From the Theology of Work Project
Could reflecting on Deborah's life help Christians today clear away obstacles to women's leadership? Read more
Male-Female Relationships in the Workplace
From The High Calling
Some people struggle with women in leadership because they struggle with this issue. Here are some good and practical tips for maintaining professional relationships. Read more