Helping Employees Fulfill Their Dreams: December 14 Newsletter
Newsletter / Produced by The High Calling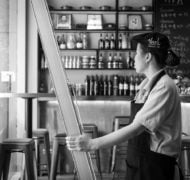 We all want careers that are purposeful. Nobody wants to find themselves in a dead-end job. We want to be allowed to dream of better things. We believe that God is calling us to go further up and further in, not only in our relationship with him, but in the work that we do for him.
If we are leaders, we can invest in our employees up-front so that they can flourish later. It takes effort to know who people are and what they dream about. But a long-term vision of what is needed for each person and for the institution to thrive pays off in the end for both.
How can we give people the space they need to live their dreams in and through their work? How can employers provide for their people so that when dreams shatter, there remains hope for a better tomorrow? Read on.
Create Space
From The High Calling
You might be amazed by the lengths people will go to in order to help you reach your goals. You'll be more amazed by how little it takes to help other people reach theirs. Read more
Sacrificing for the Sake of the Community
From the Theology of Work Project
Creating a workplace where everyone pursues big dreams may take sacrifice on the part of leaders. It also creates a community where everyone flourishes. Read more
The Day My World Crumbled
From The High Calling
In the moment when everything felt most hopeless, the phone rang. It was my boss. Read more