No Doesn't Necessarily Mean a Closed Door
Blog / Produced by The High Calling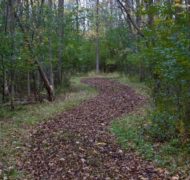 After a series of stinging rejections, Michelle DeRusha begins to wonder what's next for her career. Then she has the opportunity to look into the life of Post-Civil War education activist Mary McLeod Bethune. As part of our series In Over Your Head, DeRusha explores the invitation of "no."
I've been snapping photographs of paths lately—paths across bridges, paths through the Nebraska tall grass, paths disappearing into the woods. I think I'm drawn to collecting these images because I'm so unsure of my own way right now. Documenting the paths I walk daily near my home is a practice that offers reassurance and comfort. These pictures remind me that my path exists, even though I can't see it right now.
This past October my publisher turned down my proposal for my next book, a rejection that felt a lot like being fired. After I hung up the phone with my agent, who had relayed the bad news, I sat at my computer with my fingers on the keyboard. I figured being fired by my publisher was a clear sign that I should update my resume—no time like the present, right? But I couldn't. Instead I collapsed on the living room couch and cried for two hours straight. I wore sunglasses to hide my red-rimmed, bloodshot eyes when I picked my kids up from school later that afternoon.
After that initial rejection, over a span of four months, fourteen more publishers turned down my book proposal. When my agent emailed me with the news of the last rejection, I didn't cry. In fact, I didn't even flinch. Deep in the pit of my stomach, though, I felt an empty hollow yawn open wide. I'd lost hope. I'd lost my way, and I was afraid.
Around the same time, I was asked to speak at a women's retreat. The conference organizer suggested that I talk about what I'd learned from the women featured in my second book, 50 Women Every Christian Should Know. As I prepared the presentation, I returned to some of the chapters I'd written more than a year before, and what I found in those stories surprised me. Though they'd lived decades, even centuries, before me, the women offered insights and wisdom that were relevant to my life and my struggles in the here and now.
A Closed Door or a New Direction?
Post-Civil War education activist Mary McLeod Bethune, for instance, yearned to become a missionary in Africa, but after years of working toward her goal, the mission board turned her away. The reason? "Negroes" were not allowed to serve as missionaries in Africa.
Bethune had a clear choice in that moment. She could interpret that rejection as a closed door. Or she could press on in a new direction. Bethune chose the latter.
"Africans in America needed Christ and school just as much as Negroes in Africa," she said. "My life work lay not in Africa, but in my own country."
Bethune founded a school in Daytona, Florida, for six African-American girls, plus her own son. She single-handedly raised the money to support the school by baking sweet potato pies at night and selling them at dawn on the construction lines. She even convinced James Gamble, co-founder of Proctor and Gamble, to serve on her board of directors (Gamble later admitted that when he had first received Bethune's letter, he had assumed she was a white woman).
Today, the school Mary McLeod Bethune founded is still thriving in Daytona Beach. It's known as Bethune-Cookman College, and it enrolls thirty-five hundred students on an eighty-acre campus. That school exists because one woman refused to interpret "no" as a closed door.
Pressing On through the Wilderness
Mary McLeod Bethune experienced her fair share of wilderness days—days in which her path was obscured, days in which it seemed like "no" was the final word. I suspect she might have sat on the couch once or twice and cried until her eyes were red-rimmed and bloodshot.
But I also know she pressed on through the wilderness, in spite of the "no." She pressed on into what she couldn't see or even imagine when the mission board turned her down.
I don't know where my career and calling are heading yet. Right now, the path veers into the dense forest, and I cannot see out the other side. But Mary McLeod Bethune's story taught me an invaluable insight essential for the journey: "no" doesn't necessarily mean a closed door. Instead, it might signify the beginning of a brand-new path.