Oh, How You Made Me Laugh!
Blog / Produced by The High Calling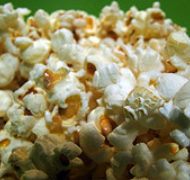 Friday night, I popped the corn. It was real popcorn. No microwaved corn in a burned-out bag. This was a special occasion. I even used real butter.

I had blog posts to read. YOUR blog posts. I'd been looking forward to reading your words about laughter for more than a week. I confess, waiting is not a strength of mine. So, I peeked into a few of your sites to see what you had to say. What I saw there made me smile....
---
Editor's Note: In September, Deidra Riggs and The High Calling co-hosted a laughter writing project. The results are in. See what made Deidra (and all of us) smile:
Image and post by Deidra Riggs. Image sourced via Flickr.