One Reason the Bible Matters So Much
Daily Reflection / Produced by The High Calling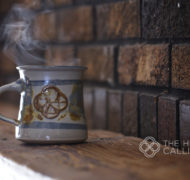 I passed on to you what was most important and what had also been passed on to me. Christ died for our sins, just as the Scriptures said. He was buried, and he was raised from the dead on the third day, just as the Scriptures said.
1 Corinthians 15:
As you probably realize, I spend quite a bit of my time studying the Bible and passing on its truth. In addition to writing these Daily Reflections, I also put lots of biblical exposition on my blog, and am frequently asked to preach in churches or speak at conferences, where I almost always focus on Scripture.

Why? Why do I spend so much of my time exploring a book that was written centuries ago? Why do I care so much about the Bible?

And, for that matter, why do you? If you read these Reflections, you must believe that the Bible matters. Why does it matter to you?

There are many, many ways to answer the question of why the Bible matters so much. Paul's summary of the Gospel in 1 Corinthians 15:3-4 provides one crucial answer. We pay attention to the Bible because it helps us understand the Good News of God's love in Jesus Christ. Notice what Paul writes in his summary: "Christ died for our sins, just as the Scriptures said. He was buried, and he was raised from the dead on the third day, just as the Scriptures said" (15:3-4). If we want to understand the meaning of the death and resurrection of Christ, then we must know "the Scriptures."

Ironically, when Paul refers to "the Scriptures" here, he is not talking about what we call the New Testament. When he was writing to the Corinthians, most of the New Testament books had not been written yet, and this includes Matthew, Mark, Luke, and John. The Scriptures to which Paul refers are the writings of what we call the Old Testament. Though they do not narrate the specific events of Jesus' passion, they do provide the inspired, authoritative lens through which we might see the significance of these events clearly. Of course we have the gift of the New Testament, which narrates the events that are central to the Gospel and provides ample commentary on these events. Thus, for us, the Scriptures are doubly helpful if we wish to grasp the meaning of Christ's death and resurrection.

As you read and reflect on biblical texts, let me encourage you to attend to how they help you understand the love of God in Jesus Christ. Though not every passage will relate specifically to the cross and resurrection, every text will indeed help you to know Jesus Christ more truly. Every text will prepare you for a deeper experience of the Good News, so that you might live more fully as a witness and demonstration of its truth and power.

QUESTIONS FOR FURTHER REFLECTION: When you read the Bible, do you think of how it helps you to know Jesus better? How does your understanding of the Old Testament enrich and inform your understanding of the Gospel? What might help you to see Jesus in all of the Bible?
PRAYER: Gracious God, today I thank you for the gift of the Bible. What a gift it is! In this book I am taught how to flourish in this life. I see that my life is a high calling of service to others in your name. I discover that I matter to you, that I am eternally love. In the Bible I learn who you are so that I might know you, not just in head, but also in heart. In this book I discover the Good News that changes my life . . . and the world.

Lord, there are times when I find your Word difficult to understand. Sometimes, even in these Reflections, I confess my confusion or even my frustration. Yet, today, I pause to thank you for the Scriptures, for their breadth and depth, for their realism and honesty, for their inspiration and truth. Thank you, in particular, that the Bible tells "the old, old story of Jesus and his love." In his name I pray, Amen.