One Small Seed: When Wise Men Decide to Do Advent
Blog / Produced by The High Calling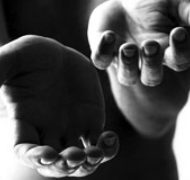 Power plays and big takeovers, it's the way the world and Wall Street turns.
But God, when He comes, He shows up in this fetal ball.
Just this seed unfurling, impossible power contained in the small.
The beginning of December, that is what I set out on the counter: a bowl of seeds. Through Advent, through all the waiting days, waiting for His coming, for the Bread of Heaven to come down, we plant seeds of wheat. God, He gestated. God was a seed. I think this, holding a seed in the palm of my hand.
"Just one seed at a time." My youngest with the mop of ringlets tells her older brother, this in her sing-song voice.
"One small act of kindness? One small seed." She's put away her brother's strewn shoes, a secret gift, a little thing planted in the expanse of a day. So she's planting her seed, a little love that grows big. She uses her index finger to press her seeds down into the dirt and the dark. This is what we have to do, push back all this dark.
Because the economy scrapes its dark underbelly too low and who can breathe, when some phone call can hang up on all our dreams and everything goes dim and one kid, one parent, one hope fall into shadow overnight.
And this Gospel? It doesn't come wrapped in twinkling lights and satin bows; it comes straight into our pitchest black. The Gospel of Christ, it's a messy, bloody thing and this is how God was born, bloody and bruised, and that's how God chose to die, bloody and beaten. And our God, He knows the comings and goings of our bloody battles, and this is exactly where He meets us. The Gospel is good news in the eye of the worst news.
Advent is the believing this, and this is how Christ comes:
"A shoot will come up from the stump of Jesse; from his roots a Branch will bear fruit. The Spirit of the LORD will rest on him…" Isaiah 11: 1-2
Out of the truncated and amputated, out of the broken off and impossible, a shoot sprouts. God buds from the impossible. Our Savior comes as a sprout from a stump. Our salvation comes by way of the small, breaking through the dead ends. Who in the world lives slow enough, wise enough, mindful enough, not to miss the slender shoot? Who sees the sacred small ways of the infinite God?
Advent is an active waiting. And Christmas comes to those who wait for the whisper, who look for the little, who seek the small, scandalous signs of the every-where presence of God.
The only way to see the Savior this Advent is to see the small, and wise men find ways to slow the season down.
"Water it slow." That's what our youngest says, us bent over dirt and seeds, the watering can tipped.
All Advent, this pouring out in small acts of kindness: a hot cup of coffee, a sticky note on a mirror, a treat left on a seat. And for every small act, this planting of one small seed.
A seed that sprouts, a shoot out of the black earth, a small act of kindness that grows bold love straight up into the dark.
Come Christmas Eve, we'll gather the slender sprouts and lay them down in the manger – like straw – like shavings off our heart – a bed for the Christ babe, the infant power play that uprights the world.
I watch how her small hand unfolds in the light.
How everything small unfolds, a small seed, like seed for the straw to hold the seed-made God.
A Family Advent Activity: Plant Straw for the Manger

1. Fill containers with dirt. Label each container with each child/person's name.

2. Fill a bowl with grass seeds/wheat seeds

3. All Advent, look for ways to do small acts of kindness: a hot cup of coffee, a sticky note on a mirror, a treat left for a seat
treat left on a seat. And for every small act, plant one seed.

4. Water throughout Advent.

5. On Christmas Eve, gather the sprouts of grass. Lay the grass in the manger for the Christ Child.
Image by Rita M. Used with permission.