Ordained for Ministry
Daily Reflection / Produced by The High Calling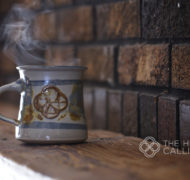 You must not leave the Tabernacle entrance for seven days, for that is when the ordination ceremony will be completed. Everything we have done today was commanded by the LORD in order to purify you, making you right with him.
Leviticus 8:33
I will never forget my ordination as a pastor. It occurred in a special evening service at the First Presbyterian Church of Hollywood. The choir sang several of my favorite anthems. Friends and mentors read Scripture, prayed, and preached. I was asked the "Constitutional Questions" in response to which I reaffirmed my faith in Christ and my commitment to serve him with my whole life. Then, a couple dozen leaders gathered around me as I knelt. They laid their hands upon me and prayed for the power of the Spirit to fill me. Finally, as I stood before the congregation, I was proclaimed to be an "ordained minister of the Word and Sacrament in the Church of Jesus Christ."

In retrospect, I'm glad that my ordination service was a major event. Rather like a wedding, the "bigness" of the service and the richness of the traditions involved made an impact on my soul. I didn't just get an ordination certificate in the mail. Rather, I was exhorted, encouraged, and prayed over. I made public my commitment and my intention. I'm quite sure this special service made an impact on my life that remains to this day.

My ordination service pales in comparison to the ordination of the priests in Leviticus 8. There, the Lord tells Moses to bring Aaron and his sons and to gather "the entire community of Israel" (8:2). Those to be ordained receive ceremonial washings and garments. They are anointed with holy oil. A bull is sacrificed for their sins, as well as a ram to honor the Lord. Another ram is sacrificed, with some of its blood applied to the bodies of the ordinands. After all of that, they were told to remain at the Tabernacle entrance for seven days. That's how long their ordination service lasted! Talk about making a powerful impact!

Ordaining people for ministry in the church is a crucial element of Christian community. I thank God for my ordination. However, we Christians have fallen short of what Scripture would urge us to do when it comes to ordaining ministry. Yes, it's right and good to set certain people apart for special ministries of preaching, teaching, and administering the sacraments or ordinances. But in light of Christ's death and resurrection, and because the Spirit has been poured out on all people, all believers are God's "holy priests" who offer "spiritual sacrifices" to God through serving him with our whole lives (see, for example, 1 Peter 2:5-10, Romans 12:1-2). Thus, the church today desperately needs to find ways to "ordain" not just those called to spiritual leadership, but all believers. We need an ordination service for all the saints, not only those set apart as clergy.

This actually happened during my pastorate at Hollywood Presbyterian Church. Our senior pastor, Lloyd Ogilvie, designed an "ordination" service for all members of the church. One Sunday, he preached on God's call to all believers to be ministers of Christ. Then, each and every person was encouraged to come forward, to be anointed with oil and prayed over by church leaders. Even as I'll never forget my own ordination, I can still picture the sanctuary of the Hollywood church as people streamed forward to be ordained into their ministry of serving Christ each and every day. How wonderful it would be if churches across the world would offer such ordination services for the people of God: the priests of God, the ministers of Jesus Christ.

QUESTIONS FOR FURTHER REFLECTION: Have you ever experienced anything like an ordination service? Has there ever been a time in your life when you were acknowledged and prayed over as a minister of Jesus Christ? What helps you to know that you are such a minister in your daily life?
PRAYER: Holy Lord, this passage from Leviticus reminds me of my own ordination. How thankful I am to have had the opportunity to experience in ceremony what is true in fact—that I am your minister, called to serve you with my whole life.

Lord, I wish such an ordination service were not reserved for the few, those of us who are called clergy. Yes, in the Old Testament time it was appropriate for priests to be ordained while the people watched. But today, because of what you have done in Christ and through the Spirit, all believers are ministers, all of us are priests. To be sure, some of us are called to special functions within the life of the church. But we need to reclaim the fact that all Christians are ministers. And we need to find ways to acknowledge and celebrate this truth in services of worship. Give your church new vision and creativity to accomplish this, for your sake and for your glory. Amen.