Parenting Children, Part 1
Blog / Produced by The High Calling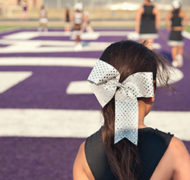 This two-part series highlights advice from Sharon and Terry Hargrave. Sharon Hargrave is the Director of the Boone Center for the Family at Pepperdine University, and the Director of Strong Marriages/Successful Ministries at Fuller Seminary. Terry Hargrave, PhD, is a Professor of Marriage and Family Therapy at Fuller Seminary and is president and in practice at Amarillo Family Institute, Inc.
My husband drove our seven-year-old daughter to her first night of cheer practice because I was unavailable. I had committed to other plans before knowing the schedule, so I kept my phone close by, eager to hear updates.
Finally, the first text came from my husband:
Was pretty upset most of the time. Dance is very fast and she does not know it.
I typed an encouraging response and waited. Twenty minutes later:
She is a wreck.
I felt helpless. Finally my husband texted that she calmed down enough to go to bed. I ached, knowing how long she dreamed of being a cheerleader and how excited she had been to get started. I knew she would be behind because we had been on vacation for the first two weeks of practice, but I didn't expect it to be quite this hard. Or emotional.
Since I couldn't be with her, I could at least start fixing the problem. We'll just practice until she gets it down, I thought. I texted her coach about getting a copy of the dance video. Another friend—a former cheer coach—was with me, so I asked her about giving my daughter some pointers. By the time I got home, I'd worked out a solution.
The next morning my daughter wandered into the living room, eyes still puffy from crying the night before. She snuggled next to me on the couch, and I stayed uncharacteristically silent as I pulled her close and wrapped an arm around her. I waited a few moments and then ventured, "So, tell me about last night." She turned to look at me, and I could see how tender her heart was through those big brown eyes.
"Did Daddy tell you what happened?"
"He told me you were pretty sad. Can you tell me about it?"
She told me all about the practice, and I felt my heart tighten with every word of discouragement. I listened for an opening to tell her what I had arranged, but before I could say anything, her voice changed from discouraged to determined. "But I'm going to work hard and do my best, and I think I can still learn the dance."
My heart leapt free, and I gazed at her with pride and respect. In that moment, as I saw confidence spread across her face, I realized my initial reaction had been exactly what Terry and Sharon Hargrave described in a recent interview I conducted for Laity Lodge Family Camp.
They shared that families typically perform three main functions: organizational management, emotional connection, and spiritual development. All three functions are important, but we tend to emphasize organization management over emotional connection and spiritual development, especially when it comes to problem solving.
As a "fixer," I'm guilty of this. After all, my first instinct in this situation was to arrange for more practice time and individual coaching. I started by focusing my attention on solving the problem, rather than emotionally connecting with her as we talked through her feelings or encouraging spiritual development by pointing to God's truth.
The Hargraves discussed how difficult times are ideal opportunities to teach our children that God is always present with them. Learning this truth as children will help them later when they are tempted to believe that God is present only in good times.
If I had cleared the path for my daughter in the name of creating a challenge-free road to success, I would have been yet another "bulldozer parent"—in removing obstacles before she reached them, I would have also removed an opportunity for her to grow. As the Hargraves reminded me, character development never comes without some sort of struggle.
I gave my daughter another big hug and told her how proud I was of her to press on even when it was hard. By the time I shared my ideas to help her, I was merely supporting her resolve to work hard and do her best, rather than handing her a solution. She smiled at the suggestions, and then skipped off to the other room to play dolls with her sister.
Read more of the Hargraves Interview at Laity Lodge Family Camp.
Image and post by Laity Lodge Family Camp editor Tina Howard.