Pass Me the Butter and I Will See You Face to Face
Blog / Produced by The High Calling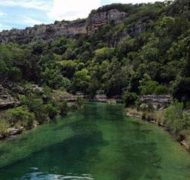 Most days, you, Reader, are a number to me. You are one of 30,000 subscribers or 70,000 Facebook followers or 85,000 visitors who spend more than 10 minutes on our site. At best, you may leave an actual comment that contains a few words approximating your voice.
It requires a lot of faith to serve numbers.
Once a year, though, our faith becomes sight. Our online community of readers has a chance to come together in person at Laity Lodge. When we normally "see only a reflection as in a mirror; then we shall see face to face" (1 Cor. 13:12). Laity Lodge isn't heaven, but bringing a digital community together in person feels like heaven.
We talk about the things we always talk about online. But we also jump in the river and swim together. We hike to the top of Circle Bluff. We sing together and pray together. I can fill up your glass when you need more water or tea or coffee. You can pass me the butter.
The first time I visited Laity Lodge, my wife and I were travelling together with our new friend Dan Roloff.
"You have to see Laity," he said and took us there.
We traveled up the Guadalupe River until it was just a trickling creek. Then hopped over a few hills to the watershed next door where Laity Lodge perches dramatically on the canyon walls at the headwaters of the Frio River.
Dan showed us the Great Hall, the Cody Center for the Arts, the docks, the studios, the rooms, the dining hall, the trails, and I was overwhelmed with gratitude. Who had built this amazing gift? Who cared enough to take such good care of it? I wanted to know these people better.
Since that first experience, it has been my constant desire to help others experience the restfulness and centeredness of Laity Lodge. For me, this place has become the center of thoughtful, reflective Christian thinking. In the Great Hall, I learned directly from some of the greatest minds in Christianity. There are too many to list, but I especially cherish the two hour conversation I had with N. T. Wright and his wife. We talked about everything from ecclesiology for the 21st century to his favorite literary hero.
Harry Potter, of course.
The High Calling is inviting you to join us at Laity Lodge this year for four days of spiritual reflection and rest. On November 21-24, Mark D. Roberts who writes our Daily Reflections will be leading us, along with Marlon Hall an entrepreneurial pastor behind the Awakenings Movement in Houston. The Cody Center will host a beautiful exhibit. Drew and Ellie Holcomb of Drew Holcomb and the Neighbors (see the video below) will help us focus our thoughts through music.
Best of all, this digital community of readers and writers and thinkers will have a chance to meet in person. Editors from The High Calling will be there to talk with everyone—at meals, on couches and porches, in rocking chairs and swings, on trails and footbridges, in kayaks and art galleries.
If you need rest, I hope you will give yourself the gift of some time with God in the good hands of the folks at Laity Lodge. We hope to see you there.
If you have been to Laity Lodge in the past, I would love to hear a story of your experience.
If you haven't been, take a moment to watch a short video to learn more about Laity Lodge or to hear the music of Drew Holcomb and the Neighbors: