Picnic
Blog / Produced by The High Calling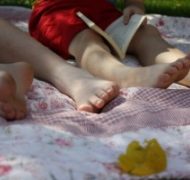 When I was a young girl and summer days stretched long before me, I whittled away the heavy heat one page at a time. A favorite thing to do was spread out on a quilt under a shade tree with my latest read. The whisper of leaves overhead and my favorite pooch by my side made the reading all the sweeter. I'm a grown-up now (so they tell me), and I still find this a welcome occupation. It must be catching, too, because all I need do is provide the blanket and soon there is very little square lounging area left. My boys do love a good read. Popsicles help too. Here at High Calling Blogs we celebrate the gift of words. We hope your summer is filled with great reads. To get you started, we're all sharing some of our favorites. Will you share some of yours? If you would like to share your list, drop a comment in the box and I'll link to you.
Laura's Way Too Long Summer Reading List
(Trust me, I left some out)
Nonfiction
1.
Absence of Mind: Dispelling Inwardness from the Modern Myth of the Self
by Marilynne Robinson—If you have read Marilynne Robinson's Pulitzer Prize-winning novel
Gilead
(and if you haven't, you should), then you know why this read is at the top of my list. Her prose is achingly beautiful. I'm looking forward to seeing how it translates to nonfiction. This book is based on a series of lectures she gave which explored the relationship between science and religion. 2.
The Writing Life by Annie Dillard
—No, I haven't read it yet. It's been on my list for years, but this summer is it. What's not to love about Annie? 3.
Not So Fast: Slow Down Solutions for Frenzied Families
by Ann Kroeker—I've had Ann's book since it was first released…but I haven't been able to slow down to read it yet! Perhaps she has some ideas for me in this area. 4.
Women Who Run with the Wolves: Myths and Stories of the Wild Woman Archetype
by Clarissa Pinkola Estes, Ph.D.—I first read this book in my early twenties and found it wise and liberating. Estes uses stories to teach, heal, and learn about the female psyche. 5.
The Gift of Play: Why Adult Women Stop Playing and How to Start Again
by Barbara Brannen—Thoughts on playing towards God in
God in the Yard
nudged me to consider this one. Recommended by a dear friend.
Spiritual Practice
1.
First Invite Love In: 40 Time-Tested Tools For Creating a More Compassionate Life
by Tana Pesso with Penor Rinpoche—I discovered this book through one of
Maureen's
always amazing posts and started reading it right away. I quickly learned, however, that I would need more time to establish a compassion practice. I plan on taking this book to the seaside with me this summer. The exercises that Pesso teaches will be very effective with an ocean mantra, I believe. 2.
Sex God: Exploring the Endless Connections between Sexuality and Spirituality
by Rob Bell—I bought this for my husband last Valentine's Day and neither one of us have read it yet. A-hem. I love how Rob Bell's straightforward style of writing brings deep Biblical principles to life. 3.
Notes from the Tilt-A-Whirl: Wide-Eyed Wonder in God's Spoken World
by N.D. Wilson—I read about this book on
Michael Hyatt's blog.
He described Wilson's writing style as what you might get if you combined C.S. Lewis or G.K. Chesterton with James Joyce and Donald Miller. It is a kind of orthodox apologetic for a post-modern, A.D.D. world. Who could resist that? 4.
God in the Yard: Spiritual Practice for the Rest of Us
by L.L. Barkat—I am only three weeks into this one and am already finding myself transformed. The questions L.L. poses throughout the study probe deep. I find I'm looking at spiritual discipline from a new perspective. 5.
Peace for the Journey: In the Pleasure of His Company
by F. Elaine Olsen—I've followed Elaine's blog for a long time and enjoy the meat she offers in small, digestible chunks. This devotional does not disappoint. It's perfect quiet time material for busy summer mornings. 6.
Anam Cara: A Book of Celtic Wisdom
by John O'Donohue—O'Donohue's poetic prose captured my imagination and I fell in love with the ancient Celtic teachings after reading this book. His descriptions of love—human and Divine—left me weak-kneed.
Memoir:
1.
A Severe Mercy
by Sheldon Vanauken—A beautiful memoir of idyllic love. 2.
Thin Places: A Memoir by Mary DeMuth
—Mary tells her heartbreaking story of childhood abuse and loss with such grace. She writes hope into the pages. The happy ending is the beautiful life she lives now. I just love a happy ending. 3.
A Million Miles in a Thousand Years: What I Learned While Editing My Life
by Donald Miller--This one is Donald Miller all grown up. The first one of his books that made me cry—he inspires, as always. If you've never read
Blue Like Jazz
you should add it to your list!
Fiction:
1.
Loving Frank: A Novel
by Nancy Horan—A fictional account of the very real love affair between Frank Lloyd Wright and Mamah Borthwick Cheney. The architect has always fascinated me and I've wanted to read this book since it was published in 2008. 2.
Big Fish: A Novel of Mythic Proportions
—A great Father's Day read. Brilliantly crafted and fun, this story explores the mythology we sometimes assign to our dads. 3.
Byzantium
by Stephen R. Lawhead—I can't seem to put this historical novel down. It is the story of an Irish monk and the epic journey that he goes through when he sets out with a band of his brothers to deliver the Book of Kells to the Emperor. I knew I would love it when, in the first chapter, Lawhead used the term anam cara. 4.
The Painted Bird
by Jerzy Kosinski--I read this after reading
Stein on Writing.
The author kept referring to this book as an example of excellent fiction. It was. Beautifully sad.
Poetry
1.
Leavings:
Poems and anything else by Wendell Berry—I just keep coming back to this amazing poet. 2.
Barbies at Communion and Other Poems
by Marcus Goodyear—In turns profoundly fun and then deeply stirring, Marcus brings poetry to this neonate in a remarkably accessible way. I'm seeing poetry in new and beautiful light because of this one. 3.
Good Poems
selected and introduced by Garrison Keillor—350 pieces from Keillor's readings on his five-minute radio show The Writer's Almanac. A great primer for a poetry novice like me. I am also anxiously awaiting
this book
and a book by
this beloved writer
. I'm not sure if they will be available before summer's end, but I just might have enough reading material to get me through. What do you think? Maureen's
Hit List: Summer Reading
Natalie's
Summer Reads
Ann's
A Summer Booklist: What's Up On the Stack
The Camel's
Summer Reading List
Ann's
Ambitious Summer Reading List
Glynn's
What I'm Reading this Summer
L.L.'s
A Sort of Summer Reading List
Cheryl's
My Summer Reading List is Getting Out of Control
Dan's
7 Fascinating Books (for your summer reading list)
Charity's
Summer is Time for...Reading?
Heather's
Summer Reading
photo, Boys with Books by Laura, used with permission. Post by Laura too.