Poet of the Image: Interview with Photographer Kelly Langner Sauer
Blog / Produced by The High Calling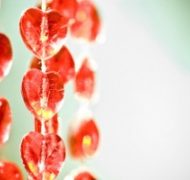 Editor's note: As part of our ongoing introduction series of contributing artists here at High Calling Blogs, Maureen Doallas interviews photographer, website designer and blogger, Kelly Langner Sauer.
MD: Kelly, how did you learn about High Calling Blogs and what is your role there?
KLS:
Last fall, I was pregnant and lonely and seeking some fellowship in a Christian community that didn't require much physical commitment on my part. I was following Amber at
the run-a-muck
and I couldn't get past her very real heart for God. I wanted more. I was so hungry for encouragement. So, I started clicking links from her blog and eventually found my way over to HCB. I sneaked around the community for a few weeks, leaving comments here and there, and then
L.L. Barkat
e-mailed me to ask if she could feature a post of mine at HCB. Doing so required displaying the HCB badge on my site and, since I'd just retaken my blog for my own after a long time of trying to be someone else, I declined the feature. As I got to know the people at HCB, however, I began to see just how in tune with my heart they were, and I joined the community. Now I read and comment as often as I can, and I have contributed some of my photos for HCB articles and features.
MD: When did you decide to become a "shooter" professionally?
KLS:
I rather stumbled into professional photography. I bought my first SLR (single-lens reflex) camera so that I could take the pictures I had been seeing for years, and my co-worker noticed the photos I was taking. She asked me to photograph her wedding and, not knowing any better, I agreed. After her wedding, I received request after request to shoot my friends' weddings, so many that I never had time to do anything with my own wedding photos! It turned into a crazy busy business that only recently slowed enough for me to spend time deciding whether to maintain photography as a profession. My decision?
Yes.
MD: What is it about photography that most captures your interest and attention?
KLS:
You have to understand, it's not "photography" itself that draws me. I know very little about my equipment, very little about the business. "Photography" is a name for the tool I use to create, to express, to put words (pictures are worth a thousand, remember?) to the feelings I can't name, and to reveal the world I see around me.
MD: When you look through the lens, what do you hope your eye sees that will be revealed in the image you create?
KLS:
I don't know what I hope to see. I almost never have a plan. The instant I pick up my camera, I am making a choice to walk into life
with my eyes open
.
The camera becomes an extension of who I am. The click of the shutter is my physical, visceral response to what my heart sees; what my heart cries. It's not what I see through the lens that makes the photo; it's who I am behind it in that moment.
MD: What did you experience the first time you were hired to photograph an event?
KLS:
There was an initial "Omigoodness, do I dare?" excitement, followed quickly by the concrete uncertainty about my ability to deliver. Then there was the raging sick that came when my new camera's battery died just 15 minutes into the formal portrait session, and the "we're still alive" exhale after a car pulled a move in front of us as we raced to get a fresh battery (as I said, I literally stumbled in here; I hadn't prepared for things like that). But I'll never forget the shock I got in post-processing that wedding. I never believed that I could take good pictures until then. I knew that if asked to do another [wedding shoot], I'd accept in a minute.
MD: Are you working on any photography projects that you can share with us?
KLS:
My main focus is getting my site and my branding together. I am reworking, redefining, figuring out my strengths and my direction. I'm also creating some items for a shop and rebuilding my portfolio. This year I'm working on a project to provide images for a coffee table book about the names of God, by
Anne Lang Bundy
. But how do you photograph God? I can't wait to see this one come together. I am also pursuing another, longer-term project with
Claire Burge
, but we're not ready to reveal that one yet.
MD: One of your photographs graces the cover of L.L.'s new book God in the Yard: Spiritual Practice for the Rest of Us. What did you feel, seeing that cover in print for the first time and your name in the credits?
KLS:
I didn't know what to feel. I wanted to cry, to giggle. I got the book in the mail and just held it for a while. I print my own photos so infrequently that seeing them in print fascinates me. Now the book sits at my bedside, reminding me that someone believed in me, that I love what I do, and that [photography] is worth it, even on all the days I thought I might give it up for good.
MD: What one word (or two or four or six) best describes who you are?
KLS:
A restless heart, seeking my Rest. Perhaps pictures would tell the story better:
I am their mama. I am his wife. I am like the restless sea. I am dreamer. I am dancer. I am muddled wave, swirling glory. I am wind and water and His.
-----
Visit Kelly's blog at A Restless Heart, and enjoy her contributions at (in)Courage and Ungrind.
Photo by Kelly Langner Sauer. Used with permission. Interview by Maureen Doallas.