Pop Culture Snapshot: Shoot your TV? Probably Not.
Blog / Produced by The High Calling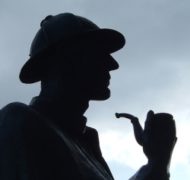 TV can often come across like the end of Western Civilization, but the small screen has also become an oasis of fantastic storytelling. As a writer/aspiring screenwriter, recent shows like Lost and the BBC's Sherlock have provided me endless instruction in my high calling as a storyteller.

Two new programs in the current Fall line-up promise to join the ranks: CBS' Elementary and the CW's Arrow.

Elementary is an American update of BBC's Sherlock, the critically-acclaimed modern take on Sherlock Holmes. Reviews have started to dispel the early criticism of this show. Many felt the premise stretched the original bounds of the Holmesian "canon." Set in New York, Elementary stars Jonny Lee Miller as Holmes, and—in a new twist—Lucy Liu as Dr. Joan Watson, instead of Dr. John Watson from the original. The new idea seems to be working.

Murder mysteries are one of the few places morality can be discussed without mockery. Elementary debuted on September 27, 2012, and I enjoyed the first episode. Check out what you missed online.

CW's Arrow is an updated version of the DC comic superhero, Green Arrow. The story follows spoiled rich kid, Oliver Queen, who survives a traumatic shipwreck and lands on a deserted island. Five years later, he returns to Starling City with a Batman-like mission to bring justice to a corrupt city. Possible questions raised in the comic series revolved around the responsibility of wealth, justice, and whether being a vigilante is ever a good idea. Arrow premieres on the CW on October tenth.

There are a few other promising shows this Fall. Pick and choose. A word of caution when it comes to our high calling of TV-watching: You can't consume a story like a donut. You have to savor it, reflect on it, and let it motivate you to action.
Image by gregwake. Used with permission. Sourved via Flickr. Post written by Jonathan Ryan. Jonathan is the author of the upcoming Urban Fantasy novel, 3 Gates of the Dead, to be released March 2013. He can be found on Twitter at @authorjryan.