The Power of Storytelling: Stories Make Us Brave
Blog / Produced by The High Calling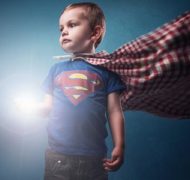 It's the first day of first grade, and August wakes in tears. My son says he's too afraid to get out of bed. I assure him that he doesn't have to get out yet. "Why don't you just get dressed in your bed, buddy?" I lift the clothes we picked out last night to the top bunk.

I long to make this better, to take his anxiety into me, to hold it for him. I cup his thinning, little-boy-cheeks in my hands and say what I've been repeating all the days leading up to this one: "You are brave, and you can do this." I know my words don't make it into his fearful heart. What do I know of how small he feels in that school, how dangerous the unknown can seem to a six-year-old? He loved his teacher last year. What if this one is scary? What if he doesn't have any friends in his class?

"You are brave," I say again. "God will be with you, helping you." He's not convinced.

I know my son. What he needs is a story. He needs to feel safe in a story.
*****
I'm a storyteller by trade, in both of my professions. I'm what our culture has taken to calling a "work from home mom." I'm a writer and speaker who fits most of my work into the three days a week when my youngest is in preschool. I squeeze the rest of my writing life into the early mornings, nap times, and evenings of my days with kids. I write a blog post while my preschooler sleeps. I scratch ideas for an article onto scrap paper in the kitchen while I help with homework.

Though I have colleagues, other authors and writers who encourage my work, writing is a solitary endeavor. My truest colleagues are the boys who return to my home in the early afternoon, begging for snacks and telling of their day's great adventures. My colleagues are the two vulnerable lives who rely on my patience, my compassion, and yes, my leadership for the hard work of growing up.
*****
When we reverse out of our driveway, August says from the back seat, "Mama, let's play Speedy." In the imaginary world of Speedy, the animal rescuer, my son is the hero: the best version of himself. Speedy is the boy August most longs to be: brave and trustworthy, tall and responsible. Speedy is in twelfth grade. Speedy loves science. Speedy helps animals in distress. And today, Speedy helps me—his seventh-grade little sister—feel brave on the first day of school.

"But Speedy, what if school is scary?" I say from the front seat.

"Don't worry, sis," Speedy replies. "Someday you'll be like me and you'll take science classes where you make potions and your teacher lets you drink them."

"Whoa! What kind of potions do you make?"

"Oh, you know, potions that make you turn into other animals or things. Like once I turned into a mini-van."

"A mini-van?"

"Yeah, it was totally weird. But also kind of awesome."

We park along the street, two blocks from school, and walk toward the building where his new teacher and classroom wait. We adjust his backpack and wave at a friend up the sidewalk. August leaves his Speedy persona in the car. And he knows he's not off to 12th grade to make magic potions. But I can see he's a little more himself now. His brother and I watch him line up in the hallway with his class and new teacher, and August stares at me with a mixture of fear and sorrow. He doesn't want this to be happening. His eyes beg me to stay all day.

But I know the story is in him. That boy near tears against the wall is Speedy. He is older and stronger and capable of all those science potions.

A good story tells the truth of who we really are. A good story points to our truest selves, the most real version of ourselves, the person God is making us to be.

A good story tells a little boy that he is not alone, that God is forming him into something bigger and bolder and less afraid. And it reminds me—the mom leaving her boy in that great big school, carrying the tender weight of fear and guilt—that in the midst of insecurities and feelings of failure in both motherhood and work, I am being made whole. I am being renewed.

Perhaps nothing is more important than telling that story: The story of how we are not alone, how there is a future, and how God is at work remaking us, giving us courage to go boldly into this new day.
______________________________
The Power of Storytelling
A note from our managing editor: When my children were young, telling stories at bedtime was always one the best parts of our day. I usually read stories straight from a book. But, my husband made up stories to tell the children and those stories continue to show up in conversations, even now that our children are adults. Stories are powerful and we may tend to forget that as we grow up and move on into board rooms and classrooms and carpool lanes.

What can a story provide in a board meeting that facts and figures alone can't accomplish? How has storytelling improved relationships among coworkers, especially coworkers whose faith is different from mine? What are some of the best stories ever told in the workplace and why did it make a difference? Why is it important to be able to tell a good story and what is a good story anyway? In this series at The High Calling, we take a look at The Power of Storytelling in the workplace. Pull up a chair and join us in the conversation.

Featured image by AP Photographie . Used with Permission. Source via Flickr.