Practice with Purpose
Blog / Produced by The High Calling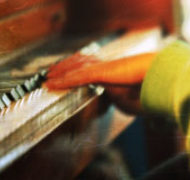 My exasperated son banged his hands on the piano keys. He was an 8-year-old with clear musical ability but no desire to practice. "Why? Why do I have to do it again? I don't understand!" he moaned. I knew this was standard behavior for similar children his age, but the knowledge didn't make dealing with his resistance any easier.
"C'mon," I coaxed. "You're playing in public on Saturday. Don't you want to be at your best?" He glowered a non-response, finally eked out the troublesome phrase, then ran outside with glee when our time was over.
I rubbed my temples, wondering how my life had come to this, a never-ending list of home- and child-related tasks and challenges that often had nothing to do with my own gifts and abilities. Was this what it meant to be a great parent? Pouring all my energies into family life until there was nothing left of myself to give? "I need a week at the spa, by myself!" I grumbled to no one in particular.
Several days later, my husband parked our minivan along the curb of a well-worn Chicago street, surrounded on both sides by aged, brick brownstones and overgrown yards. We were in the neighborhood of East Garfield Park to visit the homeless women's shelter of Breakthrough Urban Ministries. Along with serving a meal and spending time with the shelter guests, two of my three young sons were playing several music selections for the guests to enjoy, the purpose for our practice sessions earlier in the week.
While the residents were lining up to be served their meal, my kids began performing, and before long they had commanded the full attention of the room. "Look at these two little boys! Can you believe this?" exclaimed one of the women, wiry and tall despite her slightly hunched back. "Everyone, you have got to listen to this!"
The women clapped and cheered after each number, and after the boys had delivered their final bows, several of the residents came up to ask questions and give feedback: "How old are you?" "How long have you been playing?" "You're something special, you know that?"
No sooner had we driven away from the shelter than our kids' voices filled the car. "When can we go back?" asked my 8-year-old, bouncing up and down on his booster seat. "I want to play for them again!" Gone were any memories of his resistance to practicing. All that remained was a broad smile, filled with joy, lit from within by the affirmation and appreciation of others.
My own heart swelled with a private happiness, as I remembered how we began our week: my son, the frustrated child pianist; and me, the frazzled middle-aged mother. Those recollections were fast fading, replaced with the lightness of spirit that came from comprehending anew why we were put on this earth: To live not solely for ourselves, but for the purpose of blessing, serving, and loving others—whether a room full of homeless women or one's own children.
"We'll definitely go back," I reassured my still-bouncing son, then I leaned back in my seat, tired but tension-free. There would be no spa getaway for me this weekend, but our family's time at the shelter had given me something far better.
Image by Diane Gracy. Used with permission. Sourced through Flickr. Post by Helen Lee, author of The Missional Mom: Living with Purpose at Home & in the World (www.themissionalmom.com).
Resources for further reflection: