The Prodigal Son? Or The Prodigal Father?
Daily Reflection / Produced by The High Calling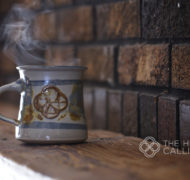 "But his father said to the servants, 'Quick! Bring the finest robe in the house and put it on him. Get a ring for his finger and sandals for his feet. And kill the calf we have been fattening. We must celebrate with a feast.' "
Luke 15:22
As you may recall, I have been reflecting my way through Luke's Gospel. Last week, I paused to reflect in depth on the verbs Jesus uses to depict the actions of the father in the parable we know as The Prodigal Son. The word "prodigal" comes to us from the Latin prodigus which means "rich, extravagant, or lavish." In English, one who is prodigal throws money around carelessly and without restraint. Thus, the son Luke 15:11-32 is understandably known as "the prodigal son."
But what about the father? We have already seen his extravagant love for his wayward son, expressed in his waiting, running, and embracing. His lavish expression of joy over his son's return continues in verses 22-23. He tells his servants to bring the finest clothing in the house for his son and to kill the calf that was specially prepared for a great feast. The father is pulling out all the stops to celebrate the return of his son who "was dead and has now returned to life. He was lost, but now he is found" (15:24).
We have seen a foreshadowing of this kind of celebration earlier in Luke 15. The shepherd who finds his lost sheep calls his neighbors to rejoice with him (15:6). Similarly, the woman who finds her lost coin gets her friends to share in her joy (15:9). But the father in Luke 15:22-24 goes beyond anything we would anticipate in his extreme expression of joy. One might very well say he is the prodigal father who spares no expense to honor the return of his son.
Here, Jesus says, is a picture of our Heavenly Father.
QUESTIONS FOR FURTHER REFLECTION: How do you respond to Jesus' description of the prodigal father? Have you experienced God's lavishness in your own life? Does this picture of God fit with what you have been taught about God? Do you believe that God celebrates your presence with him?
PRAYER: Lord Jesus, thank you for this stirring picture of the prodigal father. I must admit that it both encourages me and challenges me. It encourages me to think of my Heavenly Father who celebrates when his lost children come home. It challenges me to think of the Father in new ways. I must confess that I tend to envision him as much stingier than this.
But then I think of the glories of creation, whether the expanse of the heavens on a clear night or the rich painting of a Laity Lodge sky at sunset. I remember how you have found me in my lostness, not just once, but time and time again. I think of the riches of your grace, revealed most of all on the cross. I begin to grasp, in small measure, just how lavish you are, O God.
All praise be to you for the extravagance of your grace and love. Amen.
P.S. from Mark: If you'd like to see a picture of "the rich painting of a Laity Lodge sky at sunset, check out this link.