Pursue the Gifts You Have, Not the Ones You Want
Blog / Produced by The High Calling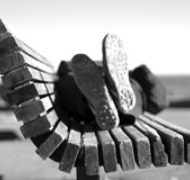 Most of us spend our lives just trying to figure out where we belong. And we waste too much time of that time pursuing something or someone that we're not. Because my dad was a good businessman, I tried to start my own business – and failed. I know others who have gone into medicine or law or the arts, because they've been expected to.
Chris Patton blogs at Christian Faith at Work and he recently talked about the boy David, who was outfitted with Saul's armor to combat Goliath. It didn't fit. It cramped his style. It redefined who he was. So he shed it, wore his shepherder's clothing, and he killed a giant.
"If I am not gifted to teach, but I insist on doing so, what kind of results will I get?" Chris asks. "I may like the idea of teaching, but if God has not gifted me for it, that is not where I will be most effective."
How many of us are in the wrong job, wrong ministry or wrong place in life? Read the rest of the post, Pursue the Gifts You Have, Not the One's You Want.
Image by Paul Goyette. Used with permission. Sourced via Flickr. Post by David Rupert.