Reconciliation!
Daily Reflection / Produced by The High Calling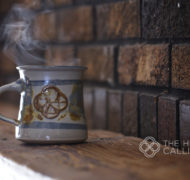 Then Esau ran to meet him and embraced him, threw his arms around his neck, and kissed him. And they both wept.
Genesis 33:4
What an extraordinary scene! After years of alienation and physical separation, the two brothers are finally reunited. Jacob's sensible fear of Esau's anger is melted by the warmth of his brother's love.

We don't know what turned Esau's heart from vengefulness to forgiveness. It's obvious from his effusiveness—not to mention what comes later in the chapter—that Esau was not influenced by Jacob's lavish gifts. Perhaps it was Jacob's prayer that made the difference (Gen. 32:9-12). Somehow, God's grace transformed Esau, who welcomed his brother home in a most unexpected way.

As a pastor, I have seen God reconcile people whose hearts are open to his healing power. I remember a couple whose marriage had been shattered by adultery. They had only to sign one more form, literally, and their divorce would be final. But God stirred in their hearts and, over time, mended the breach between them. Reconciliation of this sort isn't easy, even with God's miraculous help. It demonstrates the truth of the gospel in a powerful and magnetic way.

QUESTIONS FOR REFLECTION: Do you need to experience reconciliation in one of your key relationships? Are you more like Jacob, needing forgiveness? Or are you more like Esau, needing to forgive? Have you asked God to bring healing to this relationship?
PRAYER: Gracious God, thank you for the stirring picture of reconciliation in this text. How it warms our hearts to see Jacob and Esau reunited!

Help us, dear Lord, to be reconciled to those from whom we are separated by hurt and anger. If we need to seek forgiveness, may we do so humbly and hopefully. If we need to forgive, may we do so even as you have forgiven us.

Grant the gift of reconciliation, dear Lord, to siblings, to married couples, to families, to colleagues, to alienated friends, and to all relationships wounded by hurt and discord. May the truth of the gospel be seen in our relationships. Amen.