The Risk of Doing the Small, Ordinary Thing
Blog / Produced by The High Calling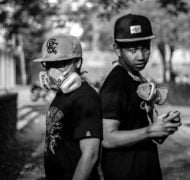 We're told to risk it all in order to follow God. In this article from our series Risk Averse, Geoff Holsclaw suggests that sometimes the riskiest act of faith is not the huge and grandiose. Sometimes the greatest risk is to do the small or ordinary thing.
While studying to be a pastor, I was repeatedly given the same two-fold advice. "Tend to your spiritual life" (because studying about God is not the same thing as walking with God) and "Your marriage is more important that 'straight As.' Don't spend all your time studying." Heeding this advice I organized my time around spiritual and marital well-being and did not kill myself trying to get all As.
I didn't want to harm my spiritual life or my family life for the sake of my academic life. In a sense, I was risking my GPA so that I could have a well-ordered life.
I did not know it at the time, but I was actually risking much more than my grades. Near the end of seminary and early on as a pastor, people began suggesting I pursue a doctorate. Well that sounded great, except for one thing: I had already blown getting a 4.0 GPA and now my application was severely weakened. Faithfulness to God and my family now seemed to be standing in the way of how God was leading me as a scholar. Had I risked the wrong thing?
Taking Risks for Our Faith
We naturally prioritize risks according to perceived rewards. From social interactions to organizational decisions, we all do our risk-return analysis.
But as we attempt to live more deeply in our Christian faith, we are told we must abandon this kind of thinking because being a disciple means taking big risks out of obedience to God. We should not always weigh risks against potential rewards. Sometimes we just need to take big risks in submission to God.
But this is only part of the story. Not only does God call us to take some big risks.
Many times the riskiest act of faith is to do the small or ordinary thing.
The Big Risk of a Small Life
Prioritizing the ordinary or mundane in pursuit of a well-ordered, God-ordered life can in itself feel like a risk, especially when we think about the demands of our careers, vocations, and aspirations. We feel the pressure to make a big splash, to leave our mark on the world.
But let us remember the life of Jesus when considering the risks God is calling us to.
Let us not forget that Jesus spent thirty years as a simple craftsman. For the formative years of his life, Jesus embraced an ordinary vocation with normal people. No flashy internship, no high-profile clients, no creative startups dotted his resume. Just hard work in a small town.
On the one hand, for someone who was supposed to be saving the world, Jesus seemed to be avoiding risk. Was he playing it safe? On the other hand, with such an ordinary life Jesus seemed to be risking everything by not positioning himself in the right way with the right people in the right places. Was he risking it all so foolishly?
And Jesus did the same in his public ministry. When he would do amazing things, he asked people not to talk about it. When the crowds gathered, Jesus would speak to them in confusing parables and then take off in the middle of the night to elude the masses. Jesus seemed to always tear down the platforms that other people would build up for him.
In his public ministry, Jesus took a huge risk by not following the priorities and patterns of the world. Instead, he lived simply and ministered to the common people. He even entrusted his work to people who were not really ready for it (the disciples, who are just like us).
This was the great risk of Jesus: that he would take the humble, lowly, ordinary things of this world and transform them into a place where God would break in. Jesus prioritized his risks according to a different metric, one of weakness and humility.
Consider the Risk
Certainly we must be ready to risk everything in order to follow God, for even Jesus did this, leading to his death. And the lives of the disciples in Scripture and beyond speak of God calling people to faithful obedience leading to deep risk.
But let us not glamorize the call to risk greatly when God is often calling us to risk smally. God wants many of us to risk the faithfulness of an ordinary life ordered around the right priorities. Have we prioritized risk along the lines that God would approve, centered on loving God and loving others? Or have we adopted a life of risk calculated according to the world's priorities? Who are we really trying to impress?
Let us aspire to the risks that God calls us to, great and small, always remembering that this was the way of Jesus.
Oh, and I did complete my doctorate and now teach regularly at Northern Seminary, which I love. But I'm also still a pastor because that was my first calling. And in the end, I do not feel I ever risked all that much because obedience to and imitation of Jesus is always the safest place to be.