Scars and Roses
Blog / Produced by The High Calling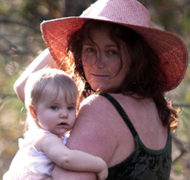 This Mother's Day, I long for my grandmother's Ponds-scented soft skin, Jamaican-lilting voice, and treasured hands clasped in prayer morning, noon, and night. She's gone—died almost 16 years ago, taken in a whirlwind of unconsciousness and impotent medical interventions.
Grandma lived with my parents and me for many years. I observed her daily, on her knees at her bedside, where she would pray and sing; her voice a strong, off-key vibrato chant of "I Surrender All."
I'm due to have my second son this month. Grandma never met my first son, or my husband. I mourn the loss of her caring arms cradling my babies. I squeeze my eyes shut, imagining her reassurances as I waddle through this last trimester, afraid. I'm scared I won't be a good enough mother or wife; scared of the implications of an extended family; scared of losing my spark, my faith, my identity in an avalanche of nagging little urgencies.
My grandmother was no stranger to the loss of things. Her life was a rosebush blooming in concrete, couched unobtrusively between two city row houses: fragrant, tenacious, and mostly invisible. A life many ambled by without celebration or even a passing glance.
Her life had petals that fell from lack of sunshine and water. Her husband left her for his mistress, just when they should have been retiring. She won the war with cancer, but surrendered a breast. She gave birth to four beautiful daughters, but lost two sons who died in infancy. She survived abuse at the hands of a relative. She pressed through the loneliness and isolation of living in a hearing-impaired world filled with well-meaning relatives who were too rushed to listen and too impatient to repeat themselves.
She endured much and faced too many of her crises alone. I know now that her bent knees and clasped hands testified: I may not escape unscarred, but I am saved, and I trust the Savior. Amazingly, life's trials were not my grandmother's undoing. She did not die bitter. She sang and prayed until she lacked the strength to move. Jesus loved her—this she knew. He pruned the painful places where the petals fell, so she could live. Her scars stanched the bleeding of bitterness and isolation and made her a more protective mother, a faithful wife, a more generous giver. Her fragrance-testimony remains.
I want that scent, but not the pruning.
In my longing for her presence and prayers, I also admit that I long for a proxy to faith; I want to enjoy her garden without growing in my own trust or sacrifice. God does not work that way—with second-hand faith. He gardens. He prunes. He gets His hands in each person's dirt and breathes life into it.
I think of the scars on my grandmother's body, how they testified to her survival and God's presence. Those scars glorify the God who still breathes fragrant life and salvation from dirty circumstances. They are proof that God saves. He's trustworthy. He's got scars, too.
Sharifa Stevens, a Bronx native living in Dallas, TX, earned a BA from Columbia University in New York and a ThM from Dallas Theological Seminary. She writes, sings, and prefers to spend her time giggling, noshing or traveling. Sharifa is married to Jonathan. They have one son and another on the way.
Image by Tim Miller, used with permission.