Season of Good Intentions
Blog / Produced by The High Calling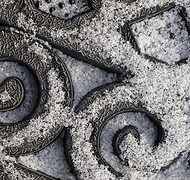 It always starts this way.
This was my thought as I lay flat on my back in two feet of snow. I was caked in white, 100 yards from the house. I heard my girls yelling across the fields: "Mommy, are you all right?"
I was stuck.
Yes. It always starts this way—with good intentions.
I wiped the hair out of my eyes with a snow-covered glove, and let all my breath out in one huge sigh, fogging up my glasses.
I was so, so stuck. And now I couldn't see.
I had come out here on a mission: to make Christmas more meaningful. I wanted to uncover, as they say, the "Reason for the Season."
My mission involved crossing farm fields so I could retrieve cornstalks from our bales. I'd read online how a mom could promote kindness in her home with a project involving hay. When her children committed acts of kindness through Advent, they could take a piece of hay and put it inside the Nativity scene. On Christmas Day, Jesus' manger would be lined with kindness.
I loved the idea.
I had visions of me gliding gracefully across bucolic farm fields, like Dorothy Hamill on skates. I forgot that I was a farmer's wife in heavy snow boots.
The girls, giggling hysterically by then, came to my aid.
This took approximately forever.
Their slow rescue gave me plenty of time to remember how I'd found myself there in the first place. It started around Thanksgiving, when we began decorating. I made hot cocoa, popped in my Osmond Family Christmas CD and flipped the fireplace switch on the wall. Thwock! Instant flames.
But in our home, the season doesn't really begin until I make my annual proclamation, ensuring that this Christmas will capture the true meaning of the holiday.
It's been that way as long as I can remember.
Before a single stocking was hung, I prayed that God would help me focus. I read how other moms celebrated. I bought an Advent wreath. I hid the two-inch resin Jesus, because I read somewhere that He shouldn't appear until Christmas Day. I told the girls about our big plans.
They stood gape-mouthed.
"Isn't this what you said last year?" the youngest asked.
I watched as the color drained from my oldest girl's cheeks. "Does this mean we won't be getting presents?"
I reassured the girls they'd still get presents, but that we'd redouble our efforts to focus on Christ.
A few days later, I accidentally flushed my MasterCard down the toilet. I wondered: Is this God's strange way of answering prayer?
And then, of course, I found myself in the spot you see me now—bespectacled and sprawled in snow.
The girls—52 pounds and 45 pounds respectively—tugged and tugged. They were no help. I rolled across the snowbank until I found firm ground.
And now, here I am, three days before Christmas, reflecting on all that has transpired. I look back and wonder: Did I find the true meaning of Christmas?
I wasn't exactly sure, until the other night, when one of the girls tugged my sleeve before bedtime.
"Mommy?" she said. "I think you should put some hay in the manger."
"Because of the cookies?" I asked, pleased that she'd noticed.
"No Mommy," she said. "Because you love us, and you help us know about Jesus."
I tucked her into bed, turned out the lights, and put a piece of cornstalk in the manger scene. It felt right this time.
But before I went to bed, I made two more vows:
To never play outside during a blizzard, and to keep my credit card in my purse instead of my back pocket.
Image by Bill Vriesema, used with permission via Flickr. Post by Jennifer Dukes Lee.