Seasons of Work: Autumn (September 20 Newsletter)
Newsletter / Produced by The High Calling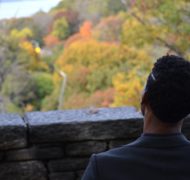 Autumn is often a time of schedules, when people get back to structured routines. But what if God wants your autumn to include letting go of what you know? The season can teach us this too, in our workplaces and everywhere.
Do You Give it a Rest?
From The High Calling
Technology is my job, one of my loves. But the words emptying and filling remind me to give it a regular rest. After all, there are onions and pumpkins, rocks and leaves, rain and a red dress waiting.
Tending Hope
From The High Calling
Even if I knew that bears would come, and limbs would break, and tomorrow the world would go to pieces, I would still plant my apple tree.
Midlife Identity Development
From the Theology of Work Project
We will move to a new and richer level if we allow ourselves to engage in reassessment at the time of midlife. . . and in all the autumns of our lives.