Seeing Life as a Gift
Daily Reflection / Produced by The High Calling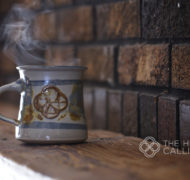 But I wish everyone were single, just as I am. But God gives to some the gift of marriage, and to others the gift of singleness.
1 Corinthians 7:7
1 Corinthians 7 addresses issues that arose among the Christians in Corinth concerning marriage and singleness. It seems that some of the believers there had decided that, though they were married, true spirituality meant abstaining from sexual relations with one's spouse. Others believed that they should separate from their non-Christian spouse. This kind of unilateral decision created all measure of conflict with marriages and within the Corinthian church.

Paul's basic counsel to those in Corinth was that those who were married should remain married, and should continue to be sexually intimate with their spouse. Marriage was not to be seen as some kind of bondage, but rather as a gift from God (7:7). Yet singleness is also a divine gift, providing people with the opportunity to be exclusively focused on serving the Lord (7:32-35).

Though our situation differs from that of the first-century Corinthians, we need to hear God speaking to us afresh through Paul's letter. Those of us who are married need to receive the gift of marriage by remaining committed to our spouses and growing in intimacy with them. Those of us who are single need to receive the gift of singleness as an opportunity to serve the Lord without the demands of marriage. Whether you are married or single, God has given you the situation of your life to shape your character and grow your faith.

QUESTIONS FOR REFLECTION: Do you think of your marital state—either as a married person or as a single person—as a gift from God? What helps you to serve the Lord in you marriage? Or in your singleness?
PRAYER: Dear Lord, sometimes we can think that we could serve you more completely if we were in a different condition of life. Married folk can look upon singleness as offering more freedom. Single folk can see marriage as the ultimate goal of their life. How easily we fail to see our current status, not just as an opportunity, but also as a gift from you.

Help those of us who are married, Lord, to receive our marriage as a gift from you. May we treasure this gift, remaining faithful to our spouse and growing in our love and our commitment.

Help those of us who are single to see our singleness as a gift. May we use the freedom we have to offer our whole lives to you without hesitation or reticence.

All praise be to you, gracious God, for all of your good gifts to us! Amen.