Self-Centered Beginnings and Centered-Self Endings
Blog / Produced by The High Calling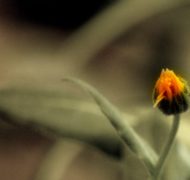 Then Jesus told his disciples, "If any man would come after me, let him deny himself and take up his cross and follow me. For whoever would save his life will lose it, and whoever loses his life for my sake will find it. For what will it profit a man, if he gains the whole world and forfeits his life? Or what shall a man give in return for his life?" (Matt. 16:24–26)
We all begin life totally self-centered. With time and experience, most of us become less so, more invested in others. But the transition is neither automatic nor easy. Throughout our lives, our culture pushes us toward self-centeredness … and, that is no way for adults to live. In fact, it is opposed to life as God intends it.
Contrary to cultural pressure, Jesus calls us into life centered totally in Christ. In our text, Jesus issues three interlocking demands. When obeyed, these mandates lead us out of self-centeredness into life in joyful service to others.
"Deny yourself!" means saying no once and for all to self-interest, which constricts and destroys our true selves, others, and our environment. Jesus knows we are created for something grand. But until we repudiate all that fosters self-preoccupation, we will never participate in anything of lasting value.
"Take up your cross" willingly—today and every day. Jesus calls us to center our daily lives on, in, for, and through him. Publicly, life in Him includes suffering, ridicule, even death. Our culture supports a privatized Jesus and public religious behavior as long as it never offends, challenges, or opposes worldly principalities that oppose The Man and His message. Christ-centered living daily accepts the occasions God places in front of us to serve in the name and power of Jesus. Thus we take up our cross daily; but the world is hostile to such selfless freedom.
Abiding in Him, we slowly and surely become more like Him. Through the power of His presence in the center of our will, Jesus transforms us from the inside out, lifting us from the sludge of self-centeredness to the freedom of centered selves in sacrificial service to others. Such is the way to secure whole, centered, and abundant life that endures forever.