She Sings the Truth About Life and Love: Interview with Brooke Campbell
Blog / Produced by The High Calling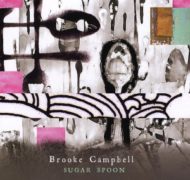 Singer-songwriter Brooke Campbell will tell you that her music — a mix of acoustic, folk, pop and bluegrass — catalogues the stops in her spiritual journey. A journey to where, you might ask? To a place where she can find truthful answers to her own many questions about life and love.
In our interview by e-mail, I learned that though she grew up in church, Campbell was 21 before she became conscious of God. She began writing music then, too, and her talent and faith have been completely connected ever since.
"I fell in love…with [her] shivery, breathless voice and deep-toned acoustic guitar playing." ~ Wall Street Journal drama critic Terry Teachout
Campbell hails from a town near Wilmington, North Carolina, one that she describes as "decorated" with low-rider trucks with gun-racks. Perhaps counter to local norms, she found herself drawn in school to the artistic kids and their way of looking at the world. " never thought I could create anything," and started writing "kind of as a joke."
Somewhere that joke turned serious and Campbell, who is based now in Nashville, Tennessee, but living in New York City until next summer, discovered that "there are few things that I love to do as much as writing music."
"I changed my ways and you changed yours / It was push, pull, loathe, adore / But there was an iron case around the core / We never got through" ~ "Stretched Toward You" from the album Sugar Spoon*
Her songs are mostly autobiographical, though she doesn't start out trying to make them so. The melodies and phrases just seem to present themselves. Often, she admitted, a lyric "pops out fully formed that feels like the truth, even if I don't know what it means. It's like speaking from dreams." Asked what fosters those dreams, Campbell said, "Everything's inspiring, but open space and good friends really do it for me. I write a lot in the car."
Campbell tours extensively, up and down the East Coast, from Miami Beach to Marblehead, Massachusetts — wherever people are willing to sit quietly in the dark as she sings soulful words about the "incongruities of life that leave us raw and bleeding."
"But now that you're not near me / I'm seeing clearly / How I subtly slipped into a docile disguise . . . / Soon I will be just another girl" ~ "Just Another Girl" from the album Better
When performing, Campbell feels "a great responsibility to tell the truth before God" and her listeners. Consequently, she's most comfortable playing at prayer meetings and in coffeehouse listening rooms, venues like Grace Like Rain Christian Coffeehouse, Black Cat Café, The Stoop, Brooklyn Songwriters Exchange, and Bitter End.
In 2000, Campbell signed with Arch Music Group. She has released two albums independently since then: Sugar Spoon (2009), produced by William Berlind, and Better (2006), recorded live with jazz guitarist Paul Miller. In 2008, she won the International Arts Movement Songwriting Competition, which she credits with urging her back into recording and playing after some time off.
"Is fame something important to you?" I asked. Campbell replied, "Yeah, in my down moments, fame seems like the best thing that could happen. . . I'd be appreciated, beautiful and revered, which would make me powerful — like Galadriel in Lord of the Rings when she dreams, 'All shall love me and despair.' That test comes over and over to performers."
She continued, transparently,
"I'd like to think that our senses get finer with time, that we can feel slighter and slighter flares of the ego, but I can be side-swiped by the most petty crap."
For now, Campbell said she's content just to try to live.
One way she's trying to live — and expand her reach — is by collaborating with artists in other media, such as videographer Reid Farrington with whom she worked on "What Do You Do?" and Leslie Scott of Bodyart Dance in Manhattan, who choreographed a piece set to Campbell's "Arms of the Atlantic."
Save the Date
Another collaboration is coming up on January 29 and I think you should know about it. Campbell will be playing at Space 38|39 in Manhattan with our own poet, L.L. Barkat, who will read from her recently published collection InsideOut.
When: 7-9 pm, January 29 Where: Space 38|39, 38 West 39th Street, Floor 3, New York, NY 10018 RSVP: rsvp@internationalartsmovement.org. Admission is free, and a collection will be taken to benefit the artists.
Can't be in New York? Tune in via IAM Live at internationalartsmovement.org.

Post by Maureen E. Doallas of Writing Without Paper and the art-licensing business Transformational Threads.