She Stepped Forward
Blog / Produced by The High Calling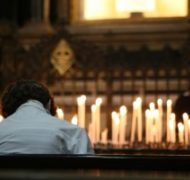 It was a typical Sunday morning. Good worship. Good message. Good time to finish up so that I could get some lunch. (Be careful not to throw stones, because you know exactly what I'm talking about!) Then it happened... At the end of his message, our pastor typically offers an opportunity for people to come forward for prayer. Sometimes it's an altar call that's related in some way to his message. Other times he calls people up for other special prayer needs as the Holy Spirit leads him. I see it every week, so I'm not even sure why I was surprised this time. On this particular Sunday it was a call for people that needed to be encouraged, and for those who wanted to recommit themselves to the Word of God to help them find that encouragement.
Several people responded, and I prayed from my seat that God would meet these people as they came forward to renew this commitment in their lives. Then she stepped forward. She is someone that I know mostly through my wife. I don't actually know very much about her, but I do know that she really needs God in a greater way in her life right now. I didn't even know she was there that week until I watched her walk forward to join the others at the altar. But why she went forward is really irrelevant. What I realized was that whatever the reason, she went forward because she believed that God could do something about it. This is exactly what it means for Christians to believe that God is sovereign. We believe that God is all-powerful, and that as our Supreme Ruler He can do whatever He pleases. He created the universe. He fashioned our DNA. He is directly responsible for every part of our existence. If He can do all of that, then He can certainly change our circumstances. Paul states in his letter to the church in Ephesus...
Now to Him Who, by (in consequence of) the [action of His] power that is at work within us, is able to [carry out His purpose and] do superabundantly, far over and above all that we [dare] ask or think [infinitely beyond our highest prayers, desires, thoughts, hopes, or dreams]-- To Him be glory in the church and in Christ Jesus throughout all generations forever and ever. Amen (so be it). -- Ephesians 3:20-21 (Amplified)
There are two things that I would like to draw your attention to...
There is a little bit of my wife's friend in all of us. We pray because we believe that He can change things, and this belief should move us to act on that faith more often. What are you carrying right now that you need to believe that God can change?
In response to the idea that God is able to do FAR more than we can imagine, Paul's natural reaction was to worship. After all, that's what he was doing when he said, "To Him be the glory...". What is your act of worship to Him who is able to do superabundantly, far over and above all that we ask or think?
I believe that the idea of God's sovereignty is the mark that defines our faith. It is important that Christians never forget how much God love us, and that He is bigger than any circumstance that we will ever encounter. I'll talk more soon about the times that He doesn't change our circumstances, but regardless we must believe that He is able. Anything less simply makes Him just like us. So may you realize how big your God is. And may you have the confidence in Him to step forward when you realize that you just can't do it by yourself anymore. And most of all, may you humbly honor and glorify the One who can change our circumstances no matter how big or little they may seem. Amen.
Photo by David Dennis (via Flickr). Post by Dan King of BibleDude.net.