Should I Talk About Jesus to My Co-Workers? September 28 Newsletter
Newsletter / Produced by The High Calling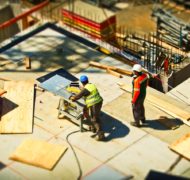 Sometimes we spend more of our waking lives with our co-workers than we do with our family. We go through births, deaths, marriages, divorces, graduations, and all the rest of life's important "stuff" with them by our side. Yet some of us find it hard to talk about one thing that matters most to us: our relationship with God. If we do, we're afraid we'll get in trouble. If we don't, we feel guilty.
We're here to help you navigate this difficult minefield with reminders that what our co-workers need is authentic friendship, and what Jesus needs is disciples, not just names on the heaven list. If we stay true to our own walk, and tell our own story, that may be all we need.
How Could I Ever Share My Faith in Christ?
From The High Calling
Most people don't need a preacher who is excellent at speechifying, nor an apologist who has all of the answers, but rather a friend who speaks honestly and authentically. Read more
Go and Make Disciples