The Sister I Never Had
Blog / Produced by The High Calling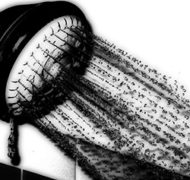 I never had a sister. But I had Anita, with whom I shared adventures, stories, dreams, fears, prayers. We logged a lot of life together and made a lot of memories.
She phoned me one day, eighteen years ago: "Are you sitting down, friend? I have Stage 3 breast cancer." We spent that weekend with our husbands, walking the beach, praying about what direction she should take for treatment. After choosing an expensive and controversial alternative course, she enjoyed 14 months of remission. We wrote notes across the miles between our homes almost every week during that time.
But one night we came to watch their son perform in a college play. In the darkened theater, I twisted around in my fold-down chair to see her, standing in the back of the auditorium the entire performance, her face lined with pain. Looking at her, haunted and frail in the dim light, I knew with every fiber of my being that she was dying. And, oh! She saw that I knew. Her eyes brimmed briefly with tears, we said goodnight, and she never allowed me to contact her again.
She wanted only people 'with faith' to be around her. She wanted talk of living, not dying. She saw on my face that I could no longer be such a person, and she carved me out of her life. I got reports from her husband, talked with other mutual friends, and prayerfully tracked her slow and steady decline. But I never again heard directly from her.
Then, a year later, on a Thursday morning in November, I was hosing down our driveway when the phone rang. Water dripping from my fingers, I answered it to hear the voice of our oldest, dearest friend: "Anita's gone, Diana. She died early this morning." And suddenly, all the mixed emotions about our upcoming move, about my new job, about finding my way in a strange community—all of it sloughed off, leaving this gaping wound of grief.
A caravan of real estate agents would be arriving at any moment and I needed to be out of my home. Where could I go? Another face flashed before my eyes, a friend who lived in my neighborhood, and I called her, crying out this hard news. "Come here," she said. "Bring your tears here."
And so I did, melting into a pile as I walked in the door, the grocery bag that held a change of clothes dropping to the floor. She enfolded me in an enormous hug, and said, "I've got a hot shower and warm towels. Go. Stand and scream, if you have to. I'll be waiting with a cup of tea."
I closed the bathroom door and turned on the shower. I closed my eyes and thought about the trip I was scheduled to make in two days' time—I had planned to drive those 90 miles east for a last visit with the sister I never had. Just two weeks prior, Anita acknowledged that death was near and she reached out, asking her husband to schedule an appointment for us to meet, to say good-bye, to remember our 32-year friendship, and to reconcile the huge rift that had come between us in the last twelve months of her life.
That meeting would never happen.
Instead, I stood under the streaming water, and wept.