Small Rebellions
Blog / Produced by The High Calling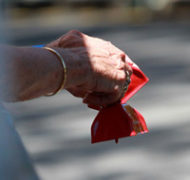 In the one year I worked as a registered nurse in a nursing home, my soul aged at least a decade. Prior to taking the job, my life experience with the elderly amounted to nothing more than singing Christmas carols in a local home. Three of my grandparents died suddenly, before the ravages of time and disease had their way. I never wanted the job ... cried over it, in fact, wishing I worked with fancy monitors and pumps rather than yellowed dentures soaking in Listerine-filled Dixie cups.
The residents each had a call bell, which they used with the abandon and joy of a three-year-old with an accommodating parent at her beck and call. They rang for bedpans and open windows and for someone to come and cut their meat, already. At the time, I found the interruptions annoying. I know now that they launched a subtle, ringing rebellion.
With advancing age, they grew childlike in their needs, and suddenly I was the grown-up trying to squeeze large heads into too-small sweaters. I bathed, dressed, fed, argued and reasoned with them. I wore a back brace to prevent injury while lifting, but I wore nothing to bind the injury this job did to my soul. I sneaked pills into their pudding and dried between their toes after a bath. Then I went home and flossed every night, because Mary from room 13b told me flossing was the reason she still had all of her real teeth.
Some nights I cried on the drive home because it all seemed too much, too awful, too close, and yet distant. One evening, over dinner with my family, we laughed as my Mom discussed organ donorship. She feared the doctors wouldn't do enough to save her with all of those life-giving, healthy organs pulsing on the inside.
"Mom wants to live forever," Dad joked. I smiled, but on the inside I felt a stab in the familiar wound ... because aging looks different than living, even when you have all your teeth. My paternal grandparents died young in a tragic accident—together. A part of me wonders if God showed them compassion. I don't want my parents to die young, but the older they get, the younger they will become. I wonder, too, if I will know the compassion of dying young, or if I will feel God close to me even in the indignity of old age, weak limbs, and bedpans.
I left the nursing home job with its old and dying as soon as I heard about an opening at the hospital. I began work on a cancer ward with the young and their beeping monitors and fancy pumps, but the memories remained.
When I think on it now, I can still smell the urine-soaked sheets and the cafeteria mashed potatoes. I remember Rosanne insisting on the red lipstick every morning with a touch-up in the afternoon. I see Filomena sitting in her wheelchair wearing teardrop ruby earrings I would like to own. I hear myself reminding Frank to stop telling dirty jokes when I enter the room, and I watch Mary flossing her teeth under the fluorescent glow of the bathroom light.
I haven't found much to bind against the injury to the soul, but each night as I wind a long piece of floss around my fingers, I remember Mary and I take part in her small, silent rebellion.
Image by Tim Miller. Used with permission. Sourced via Flickr. Post by Kimberly Coyle.