The Super Bowl Is Not Enough
Audio / Produced by The High Calling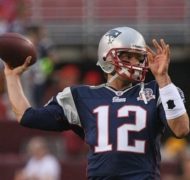 Transcript
Quarterback Tom Brady of the New England Patriots won three Super Bowls with his team, but that wasn't enough. Speaking on 60 Minutes, he said, "I have three Super Bowl rings, and still I think there's got to be something greater out there. This can't be what it's all cracked up to be."

"What's the answer?" asked correspondent Steve Kroft.

"I wish I knew," Brady said. "I wish I knew."

This is Howard Butt, Jr., of Laity Lodge. Enough people have said it that we can believe it: achievement alone cannot define success or satisfy our souls. As football great Tom Brady said, "It's got to be more." So here's the important question: How do you define success—in the high calling of our daily work?

from "Tom Brady Talks to Steve Kroft," 60 Minutes. Nov. 6, 2005.
Man is a mere phantom as he goes to and fro:
He bustles about, but only in vain;
he heaps up wealth , not knowing who will get it.

"But now, Lord, what do I look for?
My hope is in you. "

(Psalm 39:6-7)
Photo by Keith Allison. Used with permission. Sourced via Flickr.