SuperSized Solace
Blog / Produced by The High Calling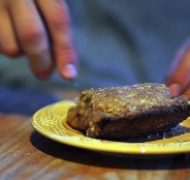 That was bad enough, but I couldn't help thinking how bereft his actual eating experiences had become— as he stuffed food into himself in the car, on the couch, on the go. He even (pardon the graphic picture here) threw up right out his car window after overdoing it with a 15-minute SuperSize dining experience. Contrast this to our featured poem this week. Through her strong, clear images,
A Simple Country Girl
reminds us there is beauty and solace in a simple home-cooked meal. I'll bet she eats her food at a table too, with cheery sunflowers overlooking. Just guessing.
Solace in the Sauce
Lining my windowsill and crowding my granite countertops. Thin, green cardboard produce baskets spilling over with red and orange tomatoes, stems and dirt still on. A rubberbanded bundle of purple basil. Gigantic sweet onions. Dried roots attach to wispy paper-covered garlic bulbs. Solace in the expectation of the ordinary. Cut. Slice. Chop. Smash. Add olive oil, heat, time and a wooden spoon. Sauce simmers.
Apple Pie photo by Ann Voskamp. Used with permission. Post by L.L. Barkat, author of God in the Yard: Spiritual Practice for the Rest of Us.
All Random Acts of Poetry Participants
Monica's
Folds and Creases
nAncY's
poem and prayer
Linda's
My Mother's Wedding Dress
Maureen's
No Easy Solace
FaithHopeandCherrytea's
Beauty
Glynn's
Solace of the Woods
Karen's
As We Gather Treasures
Sandra's
Find Solace
A Simple Country Girl
Solace in Sauce
Kath's
Time
Mama K's
Solace and Jazz
LL's
Suddenly
and
Chocolate is Solace
HisFirefly's
Solace in the Rain
Nancy's
Seeking Solace
Stephie's
Solace - Soul = Soulless
Emily's
Grasping Tranquility