The Tender Power of God
Daily Reflection / Produced by The High Calling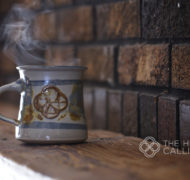 Yes, the Sovereign LORD is coming in power. He will rule with a powerful arm. See, he brings his reward with him as he comes. He will feed his flock like a shepherd. He will carry the lambs in his arms, holding them close to his heart. He will gently lead the mother sheep with their young.
Isaiah 40:10-11
Today's passage begins by proclaiming the power of God. When he comes, "he will rule with a powerful arm." Given what we've seen so far in Isaiah, we might expect the next statement to promise judgment, as God uses his matchless strength to punish the nations for their wickedness. But what in fact comes next is a moving picture of God's tenderness. The Lord will care for his people like a good shepherd with his sheep. He will feed and lead them. He will even carry his lambs close to his heart.

Thus Isaiah paints a poignant picture of the tender power of God. Though he could wipe us out with one sweep of his hand, instead he uses this hand to reach out to us and embrace us. When we consider God's power, we rightly realize that he is not to be trifled with. In fact, we celebrate the good news that God's power is not against us, but for us. He uses this power both to defend us and to draw us to himself in close fellowship.

Jesus expanded upon this image of God as a powerful yet tender shepherd. In Luke 15, God is portrayed as a shepherd who leaves the ninety-nine sheep of his flock in order to seek the one who is lost. When he finds the one, he will "joyfully carry it home on his shoulders" (15:5). Here, once again, we see the tender power of God, who seeks us, finds us, and carries us home.

QUESTIONS FOR REFLECTION: When have you experienced the tender power of God? Have you ever sensed that, in a spiritual way, God was holding you? When? How did this feel?
PRAYER: Gracious Lord, today I'm reminded of your power. Indeed, you rule with a powerful arm, an arm unlike any other in all creation. Though nations may appear powerful, and though natural disasters can overwhelm us with their power, your strength is greater, beyond anything we can imagine. I praise you today as Almighty God!

Yet your strength is expressed with us through your tenderness. You feed us and lead us with your Spirit and truth. You carry us, not at arm's length, but close to your heart. How I yearn for this kind of intimacy with you! There is nothing better in life than experiencing your strong, tender presence. So, even today, Lord, I ask you to carry me and hold me close to your heart.

All praise be to you, Almighty, all-loving God! Amen.