There and Back Again: Work
Blog / Produced by The High Calling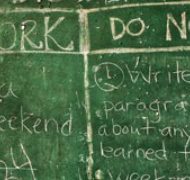 High Calling Content Editor Charity Singleton is a gifted writer and keen observer of life. And those traits are even more pronounced as she grapples with her cancer.
Charity recently wrote about the time lapses between procedures – each one successively negative in their outcome. No one ever comes right out and says you have the illness, they just trickle the bad news, test by test. For Charity, her solace was God and … work.
"Work saved me during those weeks of waiting," she writes. As coworkers supported her, loved her and cheered her on, she still labored on in her duties. A holy distraction, perhaps?
After her treatments, she's recovered enough to return to her job this week, experiencing a Monday like never before. While work might have once been a tedious necessity, she anticipates it with great joy because it's normal.
"In order for me to really get better, she wrote, "I've got to go back to work."
Read her post There and Back Again: Work.