True Intimacy
Daily Reflection / Produced by The High Calling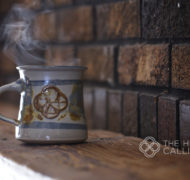 "Now the man and his wife were both naked, but they felt no shame."
Genesis 2:25
In polite speech, we sometimes speak of people "being intimate" rather than using the blunt phrase "having sex." Intimacy can involve our bodies, to be sure. In fact, the original Hebrew for Genesis 2:24 says that the man and woman were naked. But their nakedness implies much more than being unclothed. It speaks of an emotional sharing of one's deepest self, and doing so without any need to hide.
When have you felt most free to share your real self with somebody else? Where did the freedom come from? How did this feel?
PRAYER: Once again, Lord, we pray for marriages. It's obvious that you intended so much for this relationship, including a profound depth of intimacy. Our reality is far from this, of course. We often do feel shame when we share our true selves with others. And our marriages are often anything but safe for true intimacy. Help husbands and wives, Gracious God, to grow in their mutual freedom. Teach them how to know each other more deeply. May they grow into the full partnerships you have intended. Amen.