Two Jobs for Christmas Break
Blog / Produced by The High Calling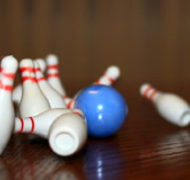 By the time we were speeding west from Farmland, Indiana, to St. Louis and beyond in the borrowed red Mustang, my brother and I lived such separate lives that we could amuse one another with story after story. David folded his tall frame into the vintage car as if he were made for the road, and I threaded my finger along the pages of the atlas, looking for towns that might boast a cheap diner with good fries. He turned 19 years old on that trip; I was 20. We laughed at occasional snowflakes sparkling against the windshield as we drove toward the mountains.
Children of the Same Parents
Growing up, my brothers and I battled every waking hour, over the television and the dinner table, over which person would be stuck in the middle of the backseat. We battled over the small landing at the top of the staircase, where each of our doors slammed in succession.
When my older brother took an after-school job, my bedroom door swung open to a quiet house, where my younger brother, David, sat in his doorway, elbows propped on gangly knees, feet squarely on the landing. I sat down in my own open doorway, eyeing him warily. I'd never noticed that we were equal targets of my older brother's domination. We shook hands and decided to be for one another, meeting at the landing now and then, talking, learning to care.
Our parents split up not too long after our teenage truce. I stayed with my mom. David claimed he moved to Dad's house, but his plan was fluid, and sometimes I couldn't find him at all. I buried myself more rigidly in my determination to get to college, and to get out of town.
Separate Educations
Four years after my parents' breakup, we both approached college with empty wallets, without reliable transportation, nearly homeless. In every other way, our college lives differed, from the subjects we studied and campus rules, to the kinds of friends we chose. Though he enrolled in a technical college and I attended an evangelical Christian college, somehow I knew all colleges held one thing in common: four weeks of holiday vacation. So I secured two jobs in Estes Park, Colorado, for Christmas break.
Miraculously, one of my college friends hoped to ski Aspen in the first days of January. My friend, Bob, loaned me his cherry red 1968 Mustang to drive to Colorado so I could work alongside my brother. Bob would fly out to meet me after New Year's.
David, like me, could plainly see that this plan was too insane to fail.
Road Trip
From St. Louis to Tulsa, where I needed to see a beloved friend, we cut through the corner of New Mexico—where we ran out of gas and hitched a ride to the nearest state police station. Then Pueblo, where we ran out of cash on a Sunday morning, before the days of ATMs, where I phoned an old boyfriend to borrow thirty bucks so we could drive the last leg of our epic journey. We stopped the beautiful red Mustang at overlooks, to photograph ourselves surrounded by snowy mountains.
I felt a little misty-eyed when we moved into the staff lodge of the YMCA of the Rockies and met our new roommates. David and I were just brother and sister again, with separate rooms, separate lives, and separate interests—no longer soul mates on a great quest for survival.
Working
We were asked to manage the skating rink and bowling alley. Since we both loved to skate, we agreed to trade jobs day by day. I started in the bowling alley, which required climbing up a Depression-era pin-setting machine several times each hour and swinging a bowling pin in my free hand to knock loose whatever was stuck.
Meanwhile, the skaters raved about my cute brother and his fine deejay work, so our supervisor asked David to work the roller-rink permanently, leaving me to suffer the sound of bowling for eight hours a day, for weeks. I should have endured with more grace. After all, the two of us were still more or less together, paid in food, shelter, and mountains, plus $9 a day.
Christmas, Gift
On Christmas morning, David and I grabbed a bag of Oreos and a bottle of fruit juice at the 24-hour gas mart outside of Rocky Mountain National Park. We took turns at the pay phone calling Mom, and Dad, and our older brother. Then we put the rest of our change into the gas tank of the dear Mustang and drove to Bear Lake, where new snow lay untouched until we covered it with snowshoe tracks. We threw snowballs and made snow angels in the middle of the snow-silent lake. With no stockings, no bows, we feasted on cookies and juice, and declared ours the most wonderful Christmas, ever.
Then we drove back for our afternoon shifts, where I could hear David fire up the Christmas music in the rink, and I vowed to be nicer to bowlers. We hardly needed gifts to unwrap: a brother was the only gift I needed that day. In another week, I'd drive back to Indiana with the owner of the borrowed Mustang, just in time for classes. David would stay on as roller rink deejay through the month of January before hitchhiking back to school.
Growing
Thirty years have passed. David and his wife live in Arizona, while my family lives north of Boston. I think of David every Christmas morning, and I thank God for that pivotal month and the work that brought us together, for the Mustang, the Oreos, the lake covered with snowshoe prints, and for the joy of being a sister.