The Upside of Down
Blog / Produced by The High Calling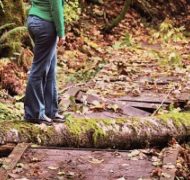 I'm one of the blessed ones, with a period of continuous employment through this whole mess, but not so for my friend John. John was a sales representative for one of the nation's largest drug companies, with a solid 23 plus years behind him.
To be "fair," the company didn't lay off by seniority – rather they used a lottery system and his number was pulled. With a wife and children at home, he could have, he should have gotten angry. But instead his very first reaction was of expectancy. "I don't like it. I don't understand it. But I look forward to seeing the hand of God in our lives," he wrote in his journal on the day he was laid off. "When I got the call, from my boss, I told him I wasn't mad at him," John confided in me. "I told him, and all my colleagues, to wait, and watch, that God had a plan for me."
Now John is a more gentle and godly soul than I'll ever be. In the same position, I probably would have said things and done things that were far less holy. I might have even given God -- and my boss -- a piece of mind. But John immediately saw the possibility of an upside in his down world. He marched boldly out of employment with the expectation of blessing. He just knew that something else was peeking around the corner. That, my friends is strong stuff.
John's journey through despair to hope is no fable. He was frustrated and scared, and yet resilent in his belief in Someone Bigger. His story is amazing and it ends like this: God came through in miraculous ways. His character was molded. His perspective was changed. His attitude turned. Stirring stories like John's are appearing everywhere. Something radical is happening. I talk to more and more people who have been profoundly changed by this current crisis. They're different.
Men and women are finding that things aren't always as they seem. If we follow our High Calling, we know that despite all the turmoil in the world, there is something else around the corner. While the world sees brokenness, we see blessings. While the market sees chaos, we see order emerging. While friends and family see despair, we can find hope. That's who we are.
John said this. "Sure, I lost my job, but I found hope. I lost my footing, I found my foundation. I lost my plans, but I found my future." How about you?
What has the economic downturn taught you?
Where do you find hope in the midst of despair?
David Rupert's other writings can be found at Red Letter Believers.
Photo by Kirsten Michelle