Video Feature: Sharing God's Love in Our Work
Video / Produced by The High Calling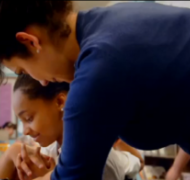 This week we are featuring another short film by our friends at Deidox. In "Lindsay," a young teacher discovers how her past experiences have prepared her for a unique ministry in New York public schools.
Lindsay finds quiet time with God on her way to work riding the New York subway. When do you find quiet time with God?
Lindsay says, "Many of my students haven't been loved well. They have been abandoned … They don't trust love." Think about your coworkers and employees. Have they been loved well? How can you help these people feel respected and encouraged in their work?
Lindsay says God prepared her for the job of teaching kids in the Bronx. How has God prepared you to do the job you are doing right now?
Lindsay concludes, "My hope is that they will figure out that God loves them so much more than I ever could." How does her work communicate God's love to her students? How does your work communicate God's love to the people around you?