VIDEO: How Important Is Integrating Faith and Work?
Video / Produced by The High Calling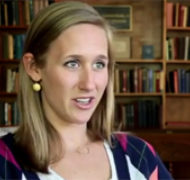 Jenny White, Executive Director of Art House America in Dallas, recently spoke with us about the importance (and challenge) of integrating faith and work. She is one of the many voices you'll be hearing from in our new video series "60 Seconds to Significance."
Watch the short video, and let us know in the comments: How do you integrate your faith and work on a daily basis?