VIDEO: What Does the Bible Teach Us About Vocation?
Video / Produced by The High Calling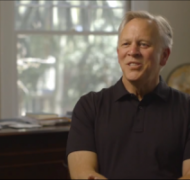 Last month, Mark Labberton, the president of Fuller Seminary and our personal friend published an incredibly important new book, Called. Mark Roberts, primary author of our Daily Reflections, felt so strongly about the book that he commissioned several videos to help bring Labberton's ideas to as many people as possible. Marcus Goodyear, editor of The High Calling, has said plainly, "If you read The High Calling, you must read Mark Labberton's new book."
Called: The Crisis and Promise of Following Jesus Today
Learn more about the ideas of this new book in our newest collection of videos and related content on Mark Labberton's book Called, as well as some of our most significant articles on calling hand selected by our editorial staff to be part of this collection.