We Are Real
Blog / Produced by The High Calling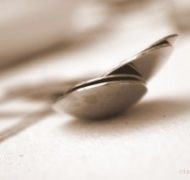 Several months ago, I was scrolling through the
High Calling Blogs reader
and came across a thoughtful story from
Wide Open Spaces
. I appreciated the writing, but it took a few months before I got to know the blogger behind Wide Open Spaces,
Charity Singleton.
After taking someone's suggestion to follow Charity's blog more closely, I ended up inviting her to write for High Calling Blogs, exploring
what "family" means
to a single woman. In the process of interacting about the post, we discovered that we live about 25 minutes away from each other. Charity invited me to attend a book club with her, but I blew it. I didn't get
the book
read in time. Fortunately, she was gracious and flexible—when she was done with book club, we met at a nearby Starbucks. While sipping coffee at an umbrella table outside, we discussed everything from organic foods and mutual friends to our families-of-origin and rural
Hoosier
childhoods. The conversation continued nonstop until about 11:30 p.m., when a worker started power spraying the sidewalk next to us—a hint, I suppose, for us to get going. Shortly after our epic coffee conversation, I invited Charity and an organic farmer to our house for tea, cake, and an impromptu dinner, because I thought we'd all enjoy discussing food and farming. The thrown-together pasta dinner turned out to be, ironically, decidedly non-organic, hurriedly prepared from jars and boxes. But everyone ended up fed, and we had a good laugh. After that evening, Charity invited me over to her place and offered me black tea—she'd noted my preference from that non-organic gathering and went out of her way to pick up English Breakfast tea, one of my favorites, to accompany the zucchini brownies she made. We talked about work, blogging, publishing, art, and pollinating zucchini plants by hand. That came up because I mentioned that
my son was craving zucchini bread
, but my zucchini weren't ripe and in some cases didn't even seem to develop from the flower. For a quick solution to my son's craving, she offered some zucchini from her surplus. We even met the following Saturday morning for a 45-minute jog together. Though we ran rather slow, time itself flew by as we continued our conversation…conversation that started online and has increased through blog conversations and email. We were already discovering all that we had in common, but meeting in person and spending time together has accelerated the process, deepening our friendship as we experiment with ways to
be a family to one another.
We are real.
Today at High Calling Blogs, we're launching a community writing project to share stories about how real online relationships can become:
"You Are Real" Community Writing Project
Over the next week, you're invited to write guest posts on a network-friend's site to describe how online life has been (or
not
been) an experience with becoming real to one another. Your story may involve the delight of meeting someone in person, or it may illustrate that
even though you haven't met
, you can nevertheless become real to one another. We encourage swapping posts as a fun way to demonstrate friendship and community, though you're welcome to post something on this topic only on your own site. When your "You Are Real" guest posts are published, drop the links into the Simply Linked tool (below), and we'll direct you back to the full list a week from today on July 28, when we highlight some of the participants. If you have any problems, leave a comment below with your link.
"Spoons" photo by Claire Burge. Used with permission. Post by Ann Kroeker.