Welcoming Children
Daily Reflection / Produced by The High Calling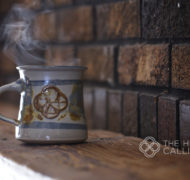 Then Jesus called for the children and said to the disciples, "Let the children come to me. Don't stop them! For the Kingdom of God belongs to those who are like these children."
Luke 18:16
During my tenure as Senior Pastor of Irvine Presbyterian Church, I often thought of stories like the one we are reading today. My role as pastor was primarily focused on the adults in the church and community. We had excellent staff members and volunteer leaders who devoted their time to children and youth. Yet, I believe that, as pastor of the whole church, I needed also to communicate the love of Christ to those who weren't yet "grown ups."

Sometimes my availability to children took unexpected turns. One Sunday morning, for example, it was time for the passing of the peace, an occasion for people to share with each other the peace of Christ. As soon as people started to greet each other, a young boy in the congregation raced forward to talk with me. "Pastor Mark, Pastor Mark," he called in a loud voice, "I have to talk with you." "What is it, Eric?" I asked, fearing that something was terribly wrong. "Where did Satan come from?" he spouted as if it were the most urgent matter in the world.

At this point, his embarrassed parents reached Eric, apologizing repeatedly for his intrusion into my "adult time." Remembering Jesus, I told them not to worry. I explained to Eric that I would be glad to talk with him about where Satan came from, but that would have to wait until after the service.

A couple of days later, Eric and his mother came to visit me. She explained that Eric had been worrying for weeks about Satan and his origin. At dinner one night, she and her husband said to Eric, "You should ask Pastor Mark about this." Eric took this to mean "Ask Pastor Mark the next time you see him," which happened to be in the middle of the recent worship service.

I have to chuckle when I remember this story. But I also feel grateful. I'm glad that Eric's parents saw me as Eric's pastor and that they assumed I would be happy to talk with Eric. I'm also thankful for the example of Jesus in the Gospels, who reminds us all—not just pastors—that children matter, that they deserve our respect and care, and that the kingdom of God belongs to children and others who simply trust God and approach him with childlike humility and openness.

QUESTIONS FOR FURTHER REFLECTION: What memories do you have of being a child in a Christian community? Did you feel as if you mattered? In what ways are you able to imitate the example of Jesus in the way you relate to children?
PRAYER: Dear Lord, thank you for letting the children come to you. Thank you for honoring children and welcoming them. Thank you for setting an example for all of us "grown ups." May we imitate you in our families, neighborhoods, communities, and churches. May we welcome children in your name.

Thank you for receiving me as a child. How glad I am that I don't have to figure it all out in order to enter the kingdom. When I trust you, simply and openly, you receive me much as you once received little children. What a precious gift this is! Amen.