What Coach Says, Not What Coach Does
Blog / Produced by The High Calling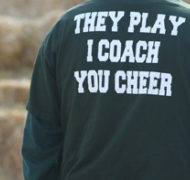 I first met Tommy D about thirty years ago. We were both young coaches trying to figure things out. Tommy always had something to say.
When things got quiet for too long, he'd comb through his blonde hair and say something like, "It takes an awfully big dawg to weigh a ton."
I'd reply with an equally witty, "Huh?"
Tommy would continue, "It takes an awfully big maaan to tho' him off the porch."
I would concede that to be true.
Maybe my fascination with words and their meanings can be traced back to Tommy. His colorful use of language kept me mystified. "Tho' " was just one of many words that kept me thinking. I can still hear Tommy D yelling at the quarterback, "Tho' it. Tho' it deep." Other words like bidness as in "mind your own bidness," or "we're in the school bidness," and arromatic as in, "I drive an arromatic transmission not a standard," were just teasers for a favorite expression. Tommy liked to say, "Get on with your own bad self." He'd scream at Houston Rockets basketball games, "Get on with your own bad self, Rick Barry."
Tommy was a stickler for the rules. I can still see him yelling at the players when they walked into the field house. "Take your hat off! A gentleman never wears his hat in house."
I only found that odd because Tommy never took his hat off when he was in the field house.
The athletes always hated Tommy and his loud badgering before practice, during practice, and even after practice. That's okay, because Tommy was convinced that they loved him. Nobody told him otherwise.
Over the years, I've managed to keep in touch with Tommy D, the walking contradiction. That's what I call him, the walking contradiction. From time to time, I want to share some of his struggles in the workplace. Maybe some of Tommy's struggles will help you feel better about your own. I'm still hoping that one day he'll have an epiphany and begin to see the high calling of our daily work.
One day, we'll see.