When Does Temptation Become Sin?
Daily Reflection / Produced by The High Calling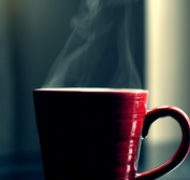 Delight yourself in the Lord and He will give you the desires of your heart.
Psalm 37:4
Preface from Mark Roberts: This week's reflections have been written by my friend and fellow pastor, Dr. Leslie Hollon, Senior Pastor of Trinity Baptist Church in San Antonio, Texas. Leslie (known also by the nickname Les) is a noted preacher, pastor, professor, and author. He is a gifted biblical teacher who connects the deep truths of Scripture to the realities of daily life. Every time I hear Leslie preach, I am encouraged to consider in new ways how the Word of God speaks to me. I know you will find Leslie's reflections on temptation to be challenging and encouraging. - Mark
When our daughter, Rachel, became a teenager, she asked me one night, "Dad, tell me a story from the Bible, not a story of good people doing good things. Tell me a story about when the people messed up." She wanted to know how God helps us when we are tempted to do wrong.
Temptation presents the possibility of sin, but it is not sin in itself. Sin begins when we form plans to put the temptation into play. Once begun, sin seeks to become a habit in our lives at home, at work, and in our community.
A person healed from his addiction with Internet pornography said to me, "It consumed my time, my energy. It was destroying my relations with my wife. I was wasting my life. Now for three years my life has been freed up from that." He realized, what we all must realize, sinful pleasure never satisfies for long.
Sin expands one's appetite for more sin. David's sinful trail began when he stood looking out from his fancy corner office and coveted his neighbor's wife. That led to adultery, lying, and murder. David's unraveling did not stop until the prophet Nathan confronted him about his abuse of authority and convinced him of his sins.
Repentance is our only hope to be released from this deadly cycle. Repentance begins with soulful remorse and ends with soul-filled renewal that extends to every part of life.
David's attempt to insulate himself from guilt's stinging indictment meant his sinful actions did not stop with sexually manipulating Bathsheba. He had to do something about Uriah, her husband. Sin does not stop on its own power. Only God's power is strong enough to stop sin's destructive force. Repentance opens us to change when we yield our will into God's will so our desires can be reshaped.
QUESTIONS FOR FURTHER REFLECTION: Where are you most vulnerable to temptation—at home, at work, or in your community? How have you learned to recognize the deceptive nature of temptation? Are you entrusting your desires to God?
PRAYER: O Lord: I need You. I want You. I freshly give myself to You. Please shape the desires of my heart so that I will delight in You and serve you in all that I do. Please give me the eyes of faith to recognize temptation's deceptive nature. Help me to see Your warning signs so I may beware of sin by being aware of You.