When Poetry Found Me
Blog / Produced by The High Calling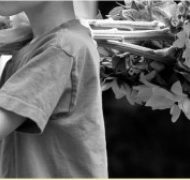 The words of my youth were simple words. They were good words, functional words, words with concrete meaning. Even the bedtime stories my mother told us had an obvious purpose.
The moral of the story is…
What other need of words would the children of a blue-collar family have? Lofty words were for lofty people and we surely had none of those in our household. So when my little brother's kindergarten teachers gifted him with a book of poetry when he was five…it sort of rocked our world.
Dilly Dilly Piccalilli Tell me something very silly: There was a chap his name was Bert He ate the buttons off his shirt.
Have you ever? The book was
Father Fox's Pennyrhymes
by Clyde Watson, Illustrated by Wendy Watson. The verses capture the adventures of a large family of foxes with remarkably human traits. My siblings and I fairly memorized the entire content. The sing-songy rhymes set us into fits of giggles and gave us a new language to share. We would call out the lines to each other while riding bikes down our dusty hollow, whisper them up through the crack between the wall and the bunk beds at night, sing them out from the tops of the trees we climbed. We carried them with us through the years.
Father Fox's Pennyrhymes
is a collaborative effort of two sisters. Says Wendy, of the book:
Its inspiration has been our childhood at home on the farm in Vermont—the seasons and the work that goes with each, the buildings, the countryside—and the atmosphere and fun of our own family. Many foxes wear favorite garments that still hang in closets in Putney; and special family occupations and times of year and occasions are in almost every poem and picture.
What? You mean poetry can be about
real life
? And be
fun
too? It was a lesson I took to heart. I began to hear poetry everywhere. In the kneading of the bread dough my mother drummed and moiled on Sundays, in the way the wind soughed through the trees, the distant bark of dogs, or the long low whistle of a train… Poetry came to me from everywhere. And then I grew up. Once again Poetry took on the lofty presence of a thing that requires careful study. I was afraid of poetry. Afraid I didn't know the right words or the right form or the right anything. It made me nervous. And so, I avoided it. But poetry came looking for me. In the face of beauty, in the throes of joy…these are the times I felt my spirit remember. It was a recognition of God, yes, but also of one special way He longed to make Himself known. Poetry would not be forgotten. Then something wonderful happened. I found
L.L. Barkat,
and she introduced me to HighCallingBlogs. Here is a place where not only does the poetry flow free, but the prose is rhythmic, poetic in nature. When I stumbled into my first
Random Acts of Poetry,
I was trepidatious…careful. What I found was grace—tender leading hands which desired that I bask in the joy of
this luminous word-play
. Poetry here is warm, inviting. And sometimes I accept the invitation. This year for national
Poem in Your Pocket Day
, I decided to read a poem for my co-workers at the hospital. I was very nervous, for in healthcare, every moment is precious--every second accounted for by administration. I knew I must choose wisely to make it worth their while. I chose this poem:
The Peace of Wild Things
by Wendell Berry
When despair for the world grows in me and I wake in the night at the least sound in fear of what my life and my children's lives may be, I go and lie down where the wood drake rests in his beauty on the water, and the great heron feeds. I come into the peace of wild things who do not tax their lives with forethought of grief. I come into the presence of still water. and I feel above me the day-blind stars waiting with their light. For a time I rest in the grace of the world, and am free.
When I finished there was a hush in the room. And I believe their day was more beautiful for that sharing. I am still growing. I still feel inadequate at times. But here in these pages I have found encouragement and instruction. And I am so glad. Because it has made my life richer. I still feel clumsy with words most days, but I am slowly embracing this new way of seeing. That is what poetry is to me—a way of opening my eyes to the beauty around me. A way to name that beauty. I keep reading. I keep trying. Because, as
Marcus Goodyear
says,
Poetry isn't harder than anything else. It isn't scarier. It doesn't need to make anyone feel unintelligent. Poetry is a game of words, stories and images. Of course, there are rules, just like there are rules in baseball. Rules are part of what make a game fun. Of course, there is a work involved. If we never practice, we can't expect to show up on game day and play well. ( From the Author section of Barbies at Communion and other poems.)
If poetry hasn't found you yet, won't you consider being found? You just might be surprised at the ways you find the Divine in the process. I'll leave you with these wise words from
Father Fox
:
Knock! Knock! Anybody there? I've feathers for your caps And ribbons for your hair. If you can't pay you can sing me a song, But if you can't sing, I'll just run along.
What about you? How has poetry found you?
photo by Darlene, used with permission. Post by Laura.